You are currently browsing the category archive for the 'Bakfiets' category.
Your correspondent looking remarkably like an elderly version of the Hovis Boy, in the name of art.
The youth group I work with are putting together their Autumn theatre and film project, which is now at the acting, filming and oh-heck-are-we-going-to-make-it-in-time stage. Part of the film story is a chase sequence on bikes, because when you're making a silent film with a lot of slapstick what you really need is a comedy  chase scene on bikes. Especially when you've got a beast like the Bakfiets to put the bad guy in.
So last Sunday I spent the day with a large number of young people, riding about the village in vague period costume with a collection of patently fake weapons (like the 'gun' in the Bakfiets). In the rain.
On Monday we'll be doing more sequences at a local castle. To get there I'll have to ride the Bakfiets into a deep valley and out the other side, and back again. Thinking about it, we could make our own Hovis advert right there.
If anyone is interested, I'll ask the editor to put some clips from the film on YouTube.
The Accidental Hermit recently commented:
"…how far can one feasibly travel while the children are small enough to be passengers? "Conventional wisdom" seems to claim that children who could fly to Australia must not, under any circumstance, remain any amount of time in a kid's bicycle seat."
I'm convinced our boys could happily ride in a Bakfiets until my legs fell off, but as you say, people have funny ideas about children on bikes.
Our experience is that kids tolerate a fairly long time on a bike, except when they're tired or hungry, but that applies to cars and planes as I can attest having had the world's smallest insomniac howl his way over the Pacific when he was just over a year old. Our boys get frustrated in cars because they have to be strapped -they've been known to unstrap their seatbelt and lie down on the back seat when they're sleepy- they also complain that they can't see anything, and they often throw up because of the bumpy ride.
Of course, people then say our boys "don't travel well"…
Bikes have the huge advantage that when there's something interesting to see, or small person needs the potty, you can generally stop. On Bakfietsen and Christiania types children are in front so they get a better view and you can talk to them much more easily, point things out and stop arguments from becoming a full scale war. The other advantage of these bikes over an Xtracycle (and cars, for that matter) is that with enough blankets, tired children can curl up on the bottom, and the movement and fresh air helps them to sleep. Much more comfortable than trying to rest in a seatbelt.
I guess the trick is to try it out and see what tolerance your small has for riding. It's not like anything can go wrong: you can stop for a cuddle if she wants one, she'll tell you when she's bored, (Very unlikely, and if she's bored looking at sky, try riding through a forest or town) and with the movement and fresh air she'll probably fall asleep when she's tired. In fact, that's pretty well guaranteed to happen…
The only possible drawback is that all your kids friends will want to travel with you, and that your offspring will eventually start to clamour for her own bike like other kids want a car.
And with a bike, this will start ten years sooner…
…that after two years of using the Bakfiets, in which time we've used it for moving everything from glass for recycling and shopping to snow clearing equipment and very large pieces of wood, people still give us odd, slightly condescending looks when we announce we're going to use the thing for carrying anything bigger than a paintbrush?
Like when we went to help a friend who'd just got married move within the village: her old apartment was only a couple of kilometres from her new one on a flattish road* and there wasn't that much to shift, but still people were looking at me with "Aw, cute toy bike" expression.
Well, we discovered three things:
Firstly…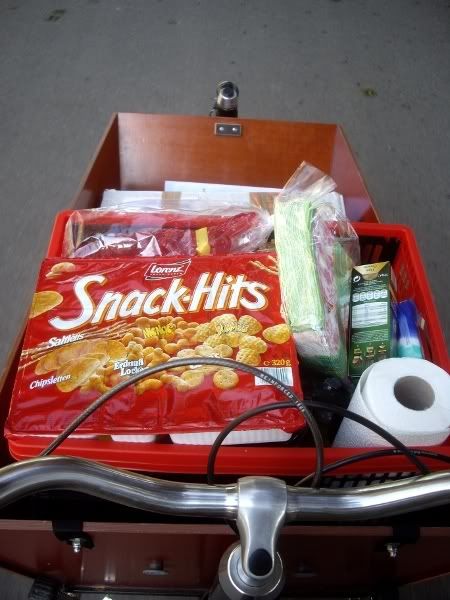 …you can transport…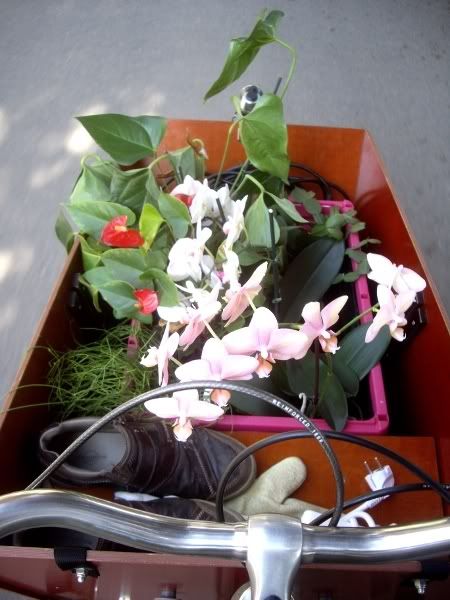 …more than you'd think…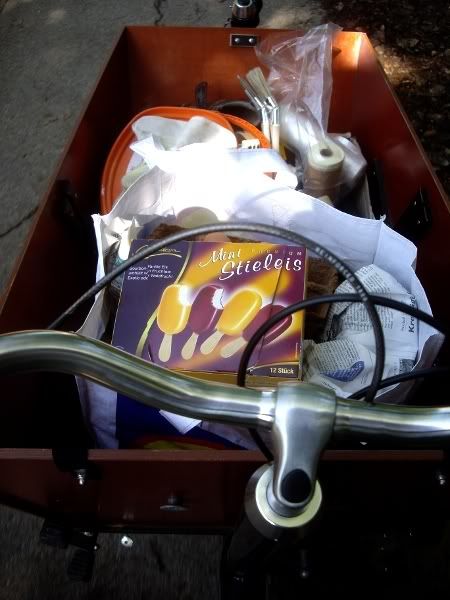 …quicker than you'd think…
…using human power…
…including the bride…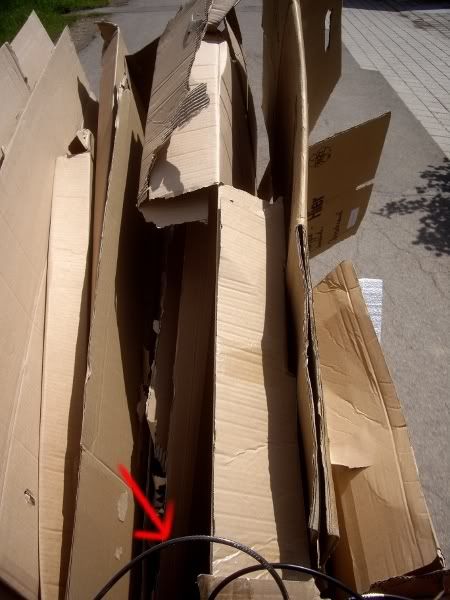 …and still have time and energy to tidy up afterwards…
(Note arrow pointing at brake cable to prove this is in the Bakfiets and not just a pile of cardboard on the road)
Secondly, that even here it's possible to find a short cut by bike, so two kilometres driving could be reduced to 500 metres, meaning I could often wave the van off, cycle to the other apartment, and be comfortably ahead of them to the point of loading the bakfiets when they finally arrived…
Thirdly, when people realise this, no matter how many times you explain that cycle lanes have barriers and the van won't be able to get through, at least one driver will still try and follow you…
*Well, flattish for around here anyway.
It's high time I took the boys camping again. This is last years trip with the Xtracycle and Bakfiets waiting for the home journey. The little bike in the middle was being used by Eldest Son at the time and will be passed on to his brother soon -which reminds me, I need to fix the gears…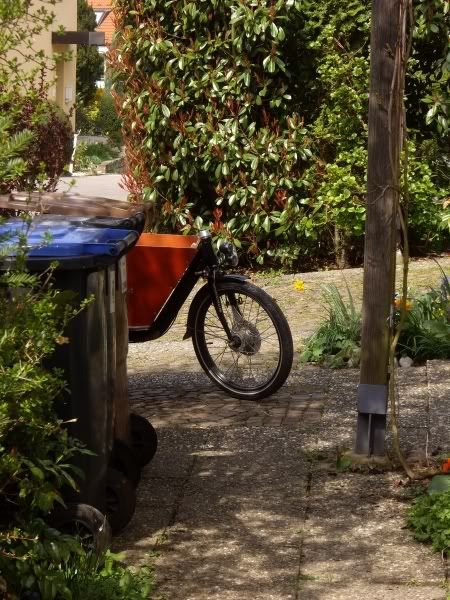 For the first time in several months, we've seen the sun and the roads are actually dry. It's quite novel to go for a ride and not have a filthy bike at the end, except when it was filthy to start with because I'm too lazy to clean it. (I think this post made me look more conscientious than I really am).
The weather decided to give us a pretty deep* snowfall on the weekend to make sure we didn't relax too much. Of course it decided to come as I was cycling back from my Permaculture course…
*enough to cause chaos in Britain London
In the 1970′s Freiburg decided to encourage people to use public transport, walk ,or cycle, and to make it difficult to drive into the city. In the centre they closed a large area to cars and built tram lines which could take people right into the main shopping streets, and built a network of cycle lanes and other facilities. I can can report that the sky has not fallen, nor has the centre of the city become a wasteland.
On the other hand…
…there were lots of bikes…
…and cyclists…
And very little traffic.
In fact, the whole experience of walking in this city was far more pleasant than in our village.
Now there's a coincidence.
Apparently the modal share of bikes in Freiburg is 27%, Not bad considering that Freiburg is right on the edge of the Black Forest, which is a Very Hilly Place. For comparison 'driving a car' is given as 26%, 'car passenger' as a paltry 6% and public transport covers 20%.
I asked David Hembrow when the Dutch City of Assen made the same policy decisions as Freiburg and the current modal share for bicycles. It turns out the main change was in the 1970′s and 80′s, and today bicycles have a modal share of 41%.
The coincidences just pile up, don't they?
One of the ironies of living in a car obsessed world is that you still need a car seat for your kids, just in case you need to travel in a tin tank. As we use them but occasionally we sometimes lend them out to other people, as in this case.
The recepient was all set to drive 1 km over to pick it up, but a Bakfiets delivery was far faster, and gave me a great photo opportunity.
We get a lot of reactions and comments when we're out and about on the bikes. Most people -or at least most people not in a car- are positive, and I'm frequently asked if I built them myself, which is flattering considering I wouldn't know a welding torch if I fell over it. But there's one comment which I frankly don't understand even though it comes every second day: "My goodness, your boys have got it good" ("Die Jungs haben's gut").
See what I mean? It sounds like I'm spoiling the boys by transporting them on the bikes. Now that would be fine if the commenter was expecting their kids to walk to kindergarten seven kilometers each day, barefoot, while subsisting on a diet of mouldy beans and sawdust, but frequently people say that and then shovel their kids into a two ton car to take them the kilometre or so home.
Frankly I'd sit in a Bakfiets in preference to a car any day, but why is it a 'luxury' to carry children in a plywood box, but carrying them in a tin tank is normal? (Unless of course, they're all envious of us and the fresh air we're getting)
Anyway, yesterday I heard a great response to this. The kindergarten were having a 'forest day' so we had to pick the boys up from the edge of the village. I waited in the company of several mums, all holding car keys. Just before the children came, the mum from the one other car-free family in the village turned up. She's a walker rather than a cyclist, and she'd had to pick her six year old son up from school and then get to the meeting point for the kindergarten, about 2 km away, in about five minutes. Her son was exhausted, so she'd put him in a big stroller and pushed him.
And the comments began: "Excuse me young man, you're a schoolboy now, you can't expect your mummy to push you about all the time any more" etc. Car Free Mum patiently explained the reason several times, before deciding she'd had enough. Turning to the most vociferous commenter she smiled sweetly and said "When I see you riding your bike occasionally, I'll listen to that comment."
Silence.