You are currently browsing the category archive for the 'Bike facilities (or lack thereof)' category.
Yesterday evening I had an invitation to visit a friend in York, and decided to ride. I'd borrowed a bike*, and York is one of the UK's three 'cycling cities'** that were being trumpeted to rival Amsterdam and Copenhagen as world-class cycling centres, so I figured I'd be okay. And I was, mostly because I started on a fairly minor road and some kind soul reminded me that in the UK people drive on the left before I met any traffic.
I can't say I'm overwhelmed by the bike lanes: certainly I'd have preferred them to have priority over side roads like in Germany, and it would have been even better if the one I was using hadn't given up after a couple of hundred metres and pitched me into the road, but it wasn't too bad.
In the other hand, I liked these nifty speed lumps in the roads. I'm sure you're all used to them by now, but humour me while I ramble on about them like some country cousin discovering electricity: they are just narrow enough for a car to drive over them fairly quickly without spilling the drivers coffee, so cars seem utterly focussed on keeping their wheels either side of the things. I soon noticed that vehicles overtaking would go over (round?) the more distant bump, giving me a reasonable amount of room. Just as well as I was on the road all the way to my friend's house and back: if I'd followed the designated cycle route I'd most likely still be out there.
Come to think of it, none of the drivers who passed were using their phone either, because they had to concentrate on the road to avoid leaving part of the car on the road. If only we could get them to treat pedestrians with the same respect as their own vehicles…
*Thanks dad…
**The others being Bristol and… where are the others exactly?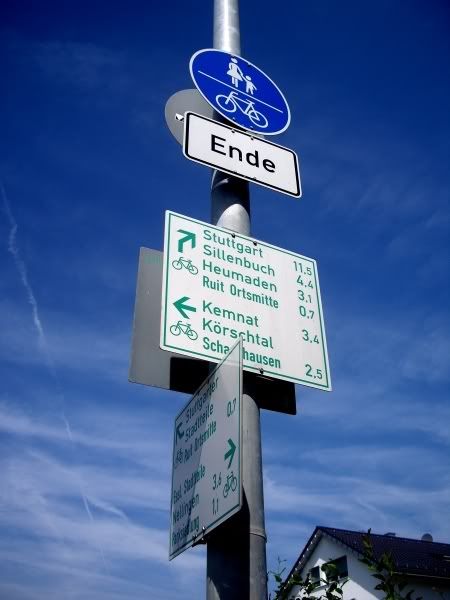 This weekend is likely to be a bit busy as we're off to a friends wedding in Freiburg, which if all goes to plan will involve picking up a car share car at a railway station in the middle of nowhere, driving to the wedding and thence to the reception and back without driving into anything, coming home on Sunday and then catching a train to Rotterdam to meet the ferry to hull on Monday, so I leave you with a small dilemma I discovered this week.
On one of the routes I cycle frequently here, there's a point where the mandatory cycleway I follow alongside a busy road becomes a mandatory footpath, meaning I have to go onto said road or ride illegally. Nothing new there of course, but there's a catch. I have about two hundred metres of this road before turning left (and crossing two lanes of traffic) onto a quieter road. These two hundred metres are on a blind bend, and we all know how aware most drivers are of cyclists on blind bends. There is no way there will ever be a cycleway on this bit of road: even a filter lane into traffic was dismissed out of hand by the town as it 'would be abused by cyclists', presumably by cycling on it…
Where the cycleway ends there's a pedestrian crossing with lights, and I've discovered that if I press the button on the lights and ride onto the road, I can pedal around the corner and be turning off before the first car catches up, saving me the stress of being buzzed or possibly overtaken dangerously closely on the blind bend. Is this adaptive use of poor infrastructure, or abuse of a pedestrian crossing?
(Tales of the UK come next week: I doubt there's W-lan on the ferry so responses to comments may take time…)
Beautiful Wife asked me to get some emergency pizza when I picked Youngest Son up from Kindergarten. No problem, I thought, we can swing past the shop on the way.
Except that Youngest Son likes to cycle home on his bike these days, and the only shop in the village is directly on the main road, which happens to be one of the routes into the Stuttgart/Neckar valley industrial region. There's no way he can ride there with all the cars and trucks and buses rushing into Germany's sixth city, and of course, we can't remove the right to choose your transport mode by say, slowing people down or stopping through traffic: then there would only be three fast roads, and imagine the pain and hardship that would cause.
On top of this a child under seven has to ride on the pavements/sidewalks in Germany. The idea, as I understand it, is to get them used to things like a high curb whenever they have to cross a side road; pedestrians appearing from buildings; and how to jump out-of-the-way* of Very Important Drivers coming out of driveways, opening car doors or just using the pavement as their own private parking space.
In this way children quickly learn that 'cycling' is what you do on a Sunday afternoon, and if you want to go more than twenty metres from the front door, get Mummy or Daddy to drive you there.
I'm being cynical: It's probably just a cheap way to avoid building proper cycle lanes.
Either way, it's surprisingly difficult to ride down a busy road and keep contact with a small person cycling on the other side of parked cars while Mercedes man leans on his horn because I'm delaying him in his Very Important Journey and distracting him from his Very Important Conversation on his mobile phone.
Now I'm sure some people (probably the people leaning on their car horn) would say I should get off the bike and walk along the pavement, thus getting out-of-the-way** of the Very Important Drivers, which would be fine except that because we are ever-so-special tree huggy types we are usually trying to get somewhere on our bikes.
Which makes it even more annoying that having made an extra trip to get the pizza, and riding all over the village to find quieter traffic calmed streets, we still ended up with an SUV behind us revving his engine and generally expressing his annoyance at our presence on the road.
*WordPress is convinced I need these hyphens. Do I? or is WordPress being nannyish?
** See previous footnote.
Exciting new spiraly bicycle path under a railway station. This was a vast improvement on the steep steps we had to deal when we cane through here last year. There was even a ramp back out of the other side as well. Even better, there was a wide, traffic free cycleway across the river about 500 metres away.
It would have been perfect if the route between the spiral and the bridge had been a traffic free cycle route instead of a car park, a patch of waste ground, and a busy road.
Still, one thing at a time. Maybe that'll be sorted out by next year…
Youngest Son suddenly decided that pedals are the future and got his big brothers to teach him to ride a bike.. The first we knew about it was when Beautiful Wife saw him racing past the kitchen. He's spent most of the week giving demonstrations and finding any excuse to ride anywhere (except up hills: still working on that). It's great to see him happy, growing, more independent and mobile etc, but I'll miss having a small person on my bike. The Kindergarten pickup has changed from carrying Eldest Son and as many of his friends as can fit into the Bakfiets, to towing a small bike up the hill using the Xtracycle, unhitching, and riding home together. That's fun too, even if we have to follow a rather indirect route to avoid the main road, because people in cars are obviously more important than families who merely live here.
Anyway, Beautiful wife had mentioned that chocolate supplies were going down. This is a serious problem, so Youngest and I decided that we'd go to on the almost entirely traffic free route to the next town and resupply before things got dangerous: the sun was shining, and it would be a chance for Youngest to go out on a bike ride with a purpose. We decided on a plan: on the uphill bits I'd tow Youngest Son's bike and he'd ride the Xtracycle, and if it rained (which of course it wouldn't, as it was so sunny and bright) I could tow us home.
I really should have looked at the weather report closely, or taken more notice of those clouds behind us, especially as we had a tailwind. As we came out of the shop the weather caught up with us and my suspicions were confirmed that Youngest Son's 'waterproof' coat wasn't.
Fortunately there was a longer but less windy route through various housing estates and along the most expensive cycle lane in the world. By the time we'd made it to the top of the hill the rain had given up so Youngest Son got to ride the last bit and still seemed to be smiling when we got home. Of course the question is if he's smiling because of the ride or smiling because it was over.
Ah, well, chocolate supplies restored…
If I'm honest, it's about five minutes after I wrote my last post: I'm going to let this go online automatically so I have a bit of time to get settled in and sort out my internet connection in a castle in the middle of a field.
Here's the bike that I've been working on, and if all goes to plan, the one which will have transported me some of the way to Schloss Daschow and the Nee-Naw training school. The finished result isn't going to win any beauty competitions but that's not the point. The point was to make something reliable but not likely to be stolen. (and as it used to look like this, I couldn't make it any worse anyway)
Stuttgart is filled to the place denoting filled-ness with cars. This is means the bike infrastructure is pretty awful (a point I will probably labour next month when commuting in the city) but on the other hand, it means that the chances of your bike getting nicked isn't high. This is because hardly anyone wants a bike, because everyone else drives a car.
Now, I'min a region known for cycling*, and thus a place where bikes get nicked more often. Fortunately Stuttgart helped here as well because people chuck all manner of useful stuff away for the diligent scrounger to collect, so I didn't have to spend too much to get this bike working nicely, fortunately for you I can't remember what came from where so you'll be spared the details. so you're spared the details, although I know the mudguards came free from a pile of 'rubbish' I was able to get at before the council picked it up and the luggage rack came from another bike a customer brought into the shop last year to "get rid of it". I just knew I'd use it one day. The tyres are reused as well, but that doesn't count because they were mine and I bought them about fifteen years ago in the UK, which makes me feel old. The Boss at the bike shop is convinced they will end their days in a formula-1 style blow-out with bits flying in all directions and throw me into a ditch somewhere.
But then if I'm going to have an accident, a school full of wannabe ambulance drivers is the place to do it…
*Which of course, I'm not, yet, but you get the idea.
Well, you asked for it,
The "Sitting and jumping hares"
From the information board:
"The "Sitting and jumping hares" were created by the Stuttgart artist Rosalie for the… State garden festival in Ostfildern in 2002

Rosalies long eared hares are based on the field hares which were once very common in Scharnhauser Park The figures remind us of comic figures. For her artwork Rosalie principally uses colours and materials from our time, and thus connects new techniques and current imagery with techniques with earlier natural experiences."
Which shows that you can write pretentious codswallop in German as well as English.
The town has bought several other sculptures, including some giant frogs, watering cans hanging from poles (which dribble water on said frogs when it rains) a series of walls dotted about the town, several small pyramids and a sofa in a waiting area in the town hall which looks comfortable but is made of steel.
I won't be publishing pictures of those. Try The inkwell and bikeyface for interesting, accesible art. (Thanks to Karl McKracken for that last link)
There's been progress on the training front: I'll tell you more soon…
Bakfiets making friends at the local supermarket.
Germany has a lot of 'utility' or transport cyclists, although the majority seem to hibernate for winter.
I can't help thinking that if Ostfildern actually made some slightly better infrastructure and kept the cycle lanes clear we would get a lot more, but then my cynical side wonders if more cyclists is exactly what the local government is trying to avoid.
So the big news for cyclists is that the town council has finally given up built the cycle lane they have been promising would be in 'next years budget' since long before we arrived here.
The lane should have been built when the town hosted the state garden festival sometime last century, but the money was needed for other important things, like a seven metre high plastic carrot which pokes into the ground at the exact geographical centre of the town and is surrounded by a circle of giant luminous pink and yellow rabbits, without which the garden festival and the town would obviously have been incomplete. I am not making this up.
Anyway, despite being only a couple of hundred metres long, and a vital link between two large sections of the town, the cycle lane remained unsurfaced, as in: "a field", meaning that children going to school had to ride on the pavement/sidewalk alongside a major road for several hundred metres. This didn't stop the town including it on their 'cyclists network' map (nor did it discourage one councillor from repeatedly claiming it was surfaced and we should all shut up and go home). Finally, the dogged persuasion by the local cyclists club has finally paid off and the government recently made a big announcement that at a cost of €20 000 (which would buy about 5cm of Autobahn) they had now put a cycleway in place.
It is 90cm (3′) wide*.
Some of the councillors are wider than that.
This, remember, is a major link for cyclists and pedestrians between the two largest parts of the town. It could reduce short car trips by providing an way to travel, if it wasn't too narrow for a pedestrian and a bicycle to pass. Or even a pedestrian and a small dog.
The council have answered this criticism by saying it is a 'good compromise' and the cycle lane can't be any wider for 'environmental reasons'.
I'm not making that up either.
*How did they manage to make a 90cm wide gravel path cost €20 000? Is there gold dust in it?
Well, not a great deal seems to have happened this week, but that would be a false impression. It's just that not a lot has happened that I can make an interesting blog entry out of.* I can't even regale you with tales of horrific winter blizzards and drifts up to the windowsills because even the weather is just in a big grey sulk like a teenager being forced to do their homework. When you start blogging about the weather being apathetic then you really are short of blogging subjects.
Still, I suspect it's the calm before the storm, as next week will be my Praktikum, a trial week with the local carpenter, who fortunately for me is within an easy walk of where we live. If I manage to convince the boss that I can handle a week of eight-hour shifts without tripping over, passing out, crashing the van, or amputating my own thumb, I can hopefully start a full three-year apprenticeship in this company in September. In Germany we still have this quaint notion that training people is a good idea, so a lot of people here do apprenticeships like this in just about everything from social work to engineering, and in many cases it's seen a sort of 'job for life', or near enough: we see it more as a "Skill for life" which will mean we can keep working towards our goals. I'll go on about those another time.
I have been cycling as well, but as it's mostly been the "drive to school/kindergarten/supermarket/garden" type of trip it's hardly exciting stuff, unless you count the early morning "Papa Taxi" ride which occasionally means dealing with commuters in a two tonne weapon who don't know what 'Shared Space' means. Last week we were going uphill on a road just wide enough for one car -so of course there were cars parked all down the side of it- when a VW pulled out and started to come downhill towards us. Lacking the abilities of spiderman to climb buildings** we waited until the driver realised they would have to wait for us to pass them. As we walked by the vehicle the driver leaned across and shouted in a you-are-being-told-off-voice that "Your light is really bright."
With hindsight, "Good" probably wasn't the most diplomatic answer…
*Not that this usually stops me, of course.
**And I'll bet even he wouldn't attempt that with a Bakfiets.