You are currently browsing the category archive for the 'Bike facilities (or lack thereof)' category.
At any given moment our local council are usually making a hole somewhere so it was inevitable that sooner or later I'd come across one on the way to college and back, but now they've excelled themselves and are turning several sections of the town into holes in the ground at once so we can all get a bit of the fun: riding home is currently a Tour de Road works.
One of these happens to be a main road towards Stuttgart, meaning that all those Very Important Drivers rushing into the city may be inconvenienced. This of course is a Bad Thing. The problem, as it was explained to me, is that people rushing through a village at slightly more than the speed limit are much more likely to stop and spend money at the local shops than people walking. Obviously*. Therefore we must be very, very, nice to the Very Important Drivers and not cause them to slow down or they may go away, in which case the village economy will collapse.
To avoid this there has been a no-expense-spared information campaign for the Very Important Drivers so they don't get confused by the new signs or upset by having to go a tiny bit slower, with front-page newspaper articles showing detailed maps of the town and alternative routes, and massive information boards showing a very rough sketch of a broad tree-lined avenue with wide pavements and lots of pedestrians and busses, and just in case any Very Important Drivers get concerned at the amount of provision for Non-Motorists, an information panel making it clear that "The intention is not to reduce the number of cars travelling through the town". Translation: "We wouldn't dream of impeding your mighty progress, mister Very Important Driver. Sir".
Just to make sure that the VID's don't get inconvenienced on their carefully signposted and mapped diversion route, the local bus is no longer allowed to stop there, because people in busses are, well, people in busses, and obviously cannot be allowed to delay cars.
In theory of course, this makes my life easier because I'm riding in the section of town where the diversion is in force, but what our local council forgot -possibly because they think it is still the 1970's- that drivers have navigators in their cars now, and they very quickly worked out that the diversion wasn't quite the shortest route around the closed road. Now, residential streets are full of big cars racing about, their drivers intensely focused on pressing the buttons on the little screen in front of them.
Having made it through all this I finally make it down the traffic free section of the way home on a Feldweg, a surfaced farm route open to bicycles and pedestrians, which suprise suprise, the council is also digging up with enthusiasm. Here's how much warning we got:
That's it: a fence across the road. Well, and a computer printed piece of paper with an arrow drawn on it a bit further back. Obviously there's no point in spending money on anything more than that, as there are only non-motorists here.
After a lot of pressure the council grudgingly added a diversionary route. You can see it in the picture below. The contractors then made the hole bigger and dug the new path up again.
I think we can understand where non-motorists stand in our local councils list of priorities.
In this context, when a car came barreling past the "no motorised vehicles" sign at the end of the Feldweg, and bullied their way through the non-motorists all the way between the two villages, only to come to a grinding halt at the gap between the fence and a tree that non-motorists can squeeze through, I was very sympathetic and didn't laugh. Much.
*Especially as there are very few people walking these days because it is so unpleasant with all the traffic, so we need to encourage the traffic to keep the shops open. Obviously.
The rain has finally managed what the city refuses to contemplate, and cleared the hard packed snow on the route over the fields to the next town. The majority of the route (where cars are allowed to go) was fine but the middle was impassable, or at the very least unpredictable. I know this because I've been going out to check the route whenever I had time and daylight with all the seriousness of some native hunter tracking prey.
By cycling I save about ten minutes each way, and avoid the slow tedium of driving on a bus that winds its way around the town for several kilometres before returning to the same place it was five minutes earlier.
I can't help wondering how drivers would cope with these conditions. If, whenever it snowed, drivers had to go out and check if their route would be clear the next day, would winter driving would be as unpopular as winter cycling locally?
Or maybe there would be a surge in SUV sales because people 'felt safer' driving in the snow in a bigger car, and then we'd have te same situation as now, on a larger scale.
It's that time of year again when the snow turns to ice, glues itself to the road surface, and stays for weeks. I kept cycling as long as I could but eventually it came down to a choice of riding on ice or along a busy narrow road with drivers who rather object to sharing the space with anyone.
And then the weather report said it would get really cold. Even if the bike had had incredible ice tyres like Disgruntled, cycling in temperatures of minus ten would mean all kinds of cold weather clothing which I'd have to haul around all day, so I've been going on the magical mystery tour on the bus. This does nothing for my energy or mood.
To try and get some exercise back into the morning routine I've taken to abandoning the bus once we get into town and walking the final bit to the railway station. No time is lost by doing this as the bus goes wandering around the inner ring road and takes as long to reach the station as I do on foot.
I also enter the city via a  stone bridge and a city gate, which gives a rather glamorous mid-European vibe to the start of the day.
I finally got myself moving and replaced the front light on the commuter bike. The old light had been flickering for a while and expired one morning on the way to college, naturally after I left the street lights of our village but before the short section on a busy main road. Fortunately there isn't that much traffic at half past six in the morning.
At some point in the not too distant future I'm hoping to get a hub dynamo to replace the bottle dynamo I currently use, so the light has its own switch and a lot of wire that I've wrapped together and secured on the forks with tape.
This adds to the already chic apprarance of the bike no end.
I was going to leave the old light on the bike but the casing reflected most of the beam from the new light into my face, so it has gone in the spares drawer.
As an added advantage I no longer become invisible when I stop in traffic, and I can see where I'm going.
The bike is probably filthy as I've been riding it through puddles, mud, and runoff from the fields for a few days, but I haven't seen it in daylight for weeks, and with three modular tests coming up at college cleaning will have to wait.
At least the light is now strong enough that I can see to avoid the horse poo.
Yesterday evening I had an invitation to visit a friend in York, and decided to ride. I'd borrowed a bike*, and York is one of the UK's three 'cycling cities'** that were being trumpeted to rival Amsterdam and Copenhagen as world-class cycling centres, so I figured I'd be okay. And I was, mostly because I started on a fairly minor road and some kind soul reminded me that in the UK people drive on the left before I met any traffic.
I can't say I'm overwhelmed by the bike lanes: certainly I'd have preferred them to have priority over side roads like in Germany, and it would have been even better if the one I was using hadn't given up after a couple of hundred metres and pitched me into the road, but it wasn't too bad.
In the other hand, I liked these nifty speed lumps in the roads. I'm sure you're all used to them by now, but humour me while I ramble on about them like some country cousin discovering electricity: they are just narrow enough for a car to drive over them fairly quickly without spilling the drivers coffee, so cars seem utterly focussed on keeping their wheels either side of the things. I soon noticed that vehicles overtaking would go over (round?) the more distant bump, giving me a reasonable amount of room. Just as well as I was on the road all the way to my friend's house and back: if I'd followed the designated cycle route I'd most likely still be out there.
Come to think of it, none of the drivers who passed were using their phone either, because they had to concentrate on the road to avoid leaving part of the car on the road. If only we could get them to treat pedestrians with the same respect as their own vehicles…
*Thanks dad…
**The others being Bristol and… where are the others exactly?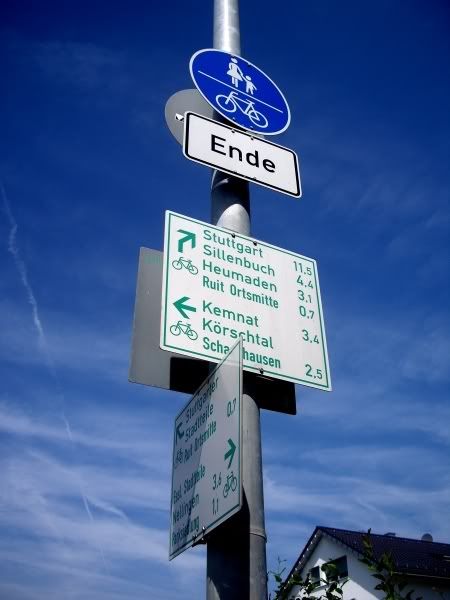 This weekend is likely to be a bit busy as we're off to a friends wedding in Freiburg, which if all goes to plan will involve picking up a car share car at a railway station in the middle of nowhere, driving to the wedding and thence to the reception and back without driving into anything, coming home on Sunday and then catching a train to Rotterdam to meet the ferry to hull on Monday, so I leave you with a small dilemma I discovered this week.
On one of the routes I cycle frequently here, there's a point where the mandatory cycleway I follow alongside a busy road becomes a mandatory footpath, meaning I have to go onto said road or ride illegally. Nothing new there of course, but there's a catch. I have about two hundred metres of this road before turning left (and crossing two lanes of traffic) onto a quieter road. These two hundred metres are on a blind bend, and we all know how aware most drivers are of cyclists on blind bends. There is no way there will ever be a cycleway on this bit of road: even a filter lane into traffic was dismissed out of hand by the town as it 'would be abused by cyclists', presumably by cycling on it…
Where the cycleway ends there's a pedestrian crossing with lights, and I've discovered that if I press the button on the lights and ride onto the road, I can pedal around the corner and be turning off before the first car catches up, saving me the stress of being buzzed or possibly overtaken dangerously closely on the blind bend. Is this adaptive use of poor infrastructure, or abuse of a pedestrian crossing?
(Tales of the UK come next week: I doubt there's W-lan on the ferry so responses to comments may take time…)
Beautiful Wife asked me to get some emergency pizza when I picked Youngest Son up from Kindergarten. No problem, I thought, we can swing past the shop on the way.
Except that Youngest Son likes to cycle home on his bike these days, and the only shop in the village is directly on the main road, which happens to be one of the routes into the Stuttgart/Neckar valley industrial region. There's no way he can ride there with all the cars and trucks and buses rushing into Germany's sixth city, and of course, we can't remove the right to choose your transport mode by say, slowing people down or stopping through traffic: then there would only be three fast roads, and imagine the pain and hardship that would cause.
On top of this a child under seven has to ride on the pavements/sidewalks in Germany. The idea, as I understand it, is to get them used to things like a high curb whenever they have to cross a side road; pedestrians appearing from buildings; and how to jump out-of-the-way* of Very Important Drivers coming out of driveways, opening car doors or just using the pavement as their own private parking space.
In this way children quickly learn that 'cycling' is what you do on a Sunday afternoon, and if you want to go more than twenty metres from the front door, get Mummy or Daddy to drive you there.
I'm being cynical: It's probably just a cheap way to avoid building proper cycle lanes.
Either way, it's surprisingly difficult to ride down a busy road and keep contact with a small person cycling on the other side of parked cars while Mercedes man leans on his horn because I'm delaying him in his Very Important Journey and distracting him from his Very Important Conversation on his mobile phone.
Now I'm sure some people (probably the people leaning on their car horn) would say I should get off the bike and walk along the pavement, thus getting out-of-the-way** of the Very Important Drivers, which would be fine except that because we are ever-so-special tree huggy types we are usually trying to get somewhere on our bikes.
Which makes it even more annoying that having made an extra trip to get the pizza, and riding all over the village to find quieter traffic calmed streets, we still ended up with an SUV behind us revving his engine and generally expressing his annoyance at our presence on the road.
*WordPress is convinced I need these hyphens. Do I? or is WordPress being nannyish?
** See previous footnote.
Exciting new spiraly bicycle path under a railway station. This was a vast improvement on the steep steps we had to deal when we cane through here last year. There was even a ramp back out of the other side as well. Even better, there was a wide, traffic free cycleway across the river about 500 metres away.
It would have been perfect if the route between the spiral and the bridge had been a traffic free cycle route instead of a car park, a patch of waste ground, and a busy road.
Still, one thing at a time. Maybe that'll be sorted out by next year…
Youngest Son suddenly decided that pedals are the future and got his big brothers to teach him to ride a bike.. The first we knew about it was when Beautiful Wife saw him racing past the kitchen. He's spent most of the week giving demonstrations and finding any excuse to ride anywhere (except up hills: still working on that). It's great to see him happy, growing, more independent and mobile etc, but I'll miss having a small person on my bike. The Kindergarten pickup has changed from carrying Eldest Son and as many of his friends as can fit into the Bakfiets, to towing a small bike up the hill using the Xtracycle, unhitching, and riding home together. That's fun too, even if we have to follow a rather indirect route to avoid the main road, because people in cars are obviously more important than families who merely live here.
Anyway, Beautiful wife had mentioned that chocolate supplies were going down. This is a serious problem, so Youngest and I decided that we'd go to on the almost entirely traffic free route to the next town and resupply before things got dangerous: the sun was shining, and it would be a chance for Youngest to go out on a bike ride with a purpose. We decided on a plan: on the uphill bits I'd tow Youngest Son's bike and he'd ride the Xtracycle, and if it rained (which of course it wouldn't, as it was so sunny and bright) I could tow us home.
I really should have looked at the weather report closely, or taken more notice of those clouds behind us, especially as we had a tailwind. As we came out of the shop the weather caught up with us and my suspicions were confirmed that Youngest Son's 'waterproof' coat wasn't.
Fortunately there was a longer but less windy route through various housing estates and along the most expensive cycle lane in the world. By the time we'd made it to the top of the hill the rain had given up so Youngest Son got to ride the last bit and still seemed to be smiling when we got home. Of course the question is if he's smiling because of the ride or smiling because it was over.
Ah, well, chocolate supplies restored…
If I'm honest, it's about five minutes after I wrote my last post: I'm going to let this go online automatically so I have a bit of time to get settled in and sort out my internet connection in a castle in the middle of a field.
Here's the bike that I've been working on, and if all goes to plan, the one which will have transported me some of the way to Schloss Daschow and the Nee-Naw training school. The finished result isn't going to win any beauty competitions but that's not the point. The point was to make something reliable but not likely to be stolen. (and as it used to look like this, I couldn't make it any worse anyway)
Stuttgart is filled to the place denoting filled-ness with cars. This is means the bike infrastructure is pretty awful (a point I will probably labour next month when commuting in the city) but on the other hand, it means that the chances of your bike getting nicked isn't high. This is because hardly anyone wants a bike, because everyone else drives a car.
Now, I'min a region known for cycling*, and thus a place where bikes get nicked more often. Fortunately Stuttgart helped here as well because people chuck all manner of useful stuff away for the diligent scrounger to collect, so I didn't have to spend too much to get this bike working nicely, fortunately for you I can't remember what came from where so you'll be spared the details. so you're spared the details, although I know the mudguards came free from a pile of 'rubbish' I was able to get at before the council picked it up and the luggage rack came from another bike a customer brought into the shop last year to "get rid of it". I just knew I'd use it one day. The tyres are reused as well, but that doesn't count because they were mine and I bought them about fifteen years ago in the UK, which makes me feel old. The Boss at the bike shop is convinced they will end their days in a formula-1 style blow-out with bits flying in all directions and throw me into a ditch somewhere.
But then if I'm going to have an accident, a school full of wannabe ambulance drivers is the place to do it…
*Which of course, I'm not, yet, but you get the idea.