You are currently browsing the category archive for the 'Bikes' category.
In the 1970′s Freiburg decided to encourage people to use public transport, walk ,or cycle, and to make it difficult to drive into the city. In the centre they closed a large area to cars and built tram lines which could take people right into the main shopping streets, and built a network of cycle lanes and other facilities. I can can report that the sky has not fallen, nor has the centre of the city become a wasteland.
On the other hand…
…there were lots of bikes…
…and cyclists…
And very little traffic.
In fact, the whole experience of walking in this city was far more pleasant than in our village.
Now there's a coincidence.
Apparently the modal share of bikes in Freiburg is 27%, Not bad considering that Freiburg is right on the edge of the Black Forest, which is a Very Hilly Place. For comparison 'driving a car' is given as 26%, 'car passenger' as a paltry 6% and public transport covers 20%.
I asked David Hembrow when the Dutch City of Assen made the same policy decisions as Freiburg and the current modal share for bicycles. It turns out the main change was in the 1970′s and 80′s, and today bicycles have a modal share of 41%.
The coincidences just pile up, don't they?
Pedelec in Würzburg. The sticker in the back window translates as: "How many cars do people need?"
Apparently they are made by a German company and are a battery/pedal hybrid.
Personally I'd go for a pedal-only huneligger, but I still like the look of it.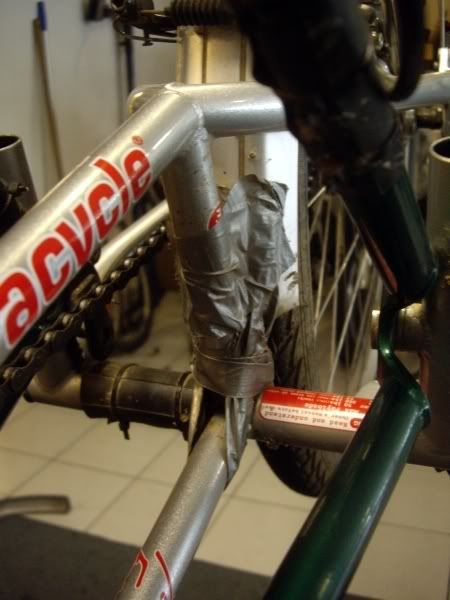 I seem to destroy mudguards on the Xtracycle. I don't know how. The first set was traditionally styled and made in black plastic, and kept me dry for a whole three days before dropping onto the road one damp night back in 1997. Generation two, a 'Crud Catcher' fishtail, was very effective for ten years but didn't fit under the Xtracycle, so I fitted generation three with some trepidation, a lot of swearing, and a little help from my friends. These broke on a wet day last October, naturally when I was going to a job interview. Since then the back mudguard has been held on with a mass of gaffer tape. This is of course incredibly cool if it's an emergency repair out in the bush, but looks pretty awful on a sort-of commuter bike. Especially after six mud-spattered months.
So now I've finally got around to fitting Mudguards 4.1: proper metal mudguards with parts scrounged from various scrap bikes including the bike I gave up on for beautiful wife. It took a bit of a wait for the right scrap bike to come in, but hopefully it'll save more emergency repairs in a rainy night. As can be seen one set of rear stays needed a bit of 'adjustment' (clamped in a vice and bent horribly until they fitted) but they're holding well.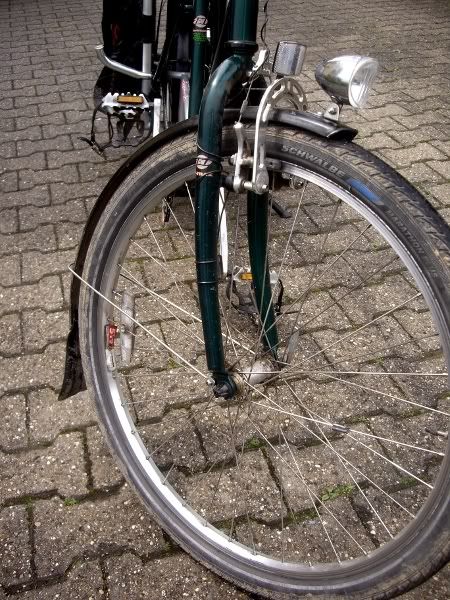 The front end looks a bit strange at the moment after I fitted the scrap light . I'll be replacing the cantilever brakes soon with Hydraulic or V-Brakes which will tidy that area up. I'll need a switch for the lights somewhere as well.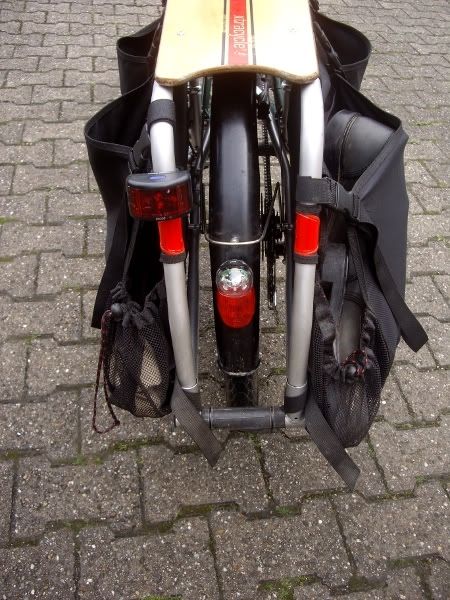 New-fangled LED rear light with park light function, because being rear-ended at night wouldn't be fun.  I left my work shoes in the Xtracycle again. Normally people look at me in a funny way when I take pictures of the bikes, but today they were all watching Germany play football.
Every now and again I do some spring cleaning on the Xtracycle, I'll take the spraydeck and side loaders off, empty them, clean then thoroughly and then spend at least ten minutes trying to remember how to put them back on again. It's quite an exciting experience because I often find things I'd lost months before and given up hope of ever finding again, although the thought that I've been schlepping them about for months is not encouraging.
This time I think I broke all records for an Xtracycle haul. The inside pockets contained (from top left):
Map of Stuttgart
cereal bars
Plastic rubbish picked up from road (goodness knows when)
Three packs of seeds
Pack of batteries for lights, pluss
Spare repair sheets for the bike shop.
Rubbish bag (for waterproofing things if it rains)
Torch and knife
First aid kit (3 Small boys- nuff said)
LED Blinky light
Two packs of dead batteries (Which by the looks of them, have been there some time, I really need to get a dynamo set)
Oily rag
Foam tube to protect paint when locking bike.
Bike lock
Hexagonal keys
Smallest Son's waterproof coat
Hoodie top
Another plastic bag for waterproofing things. (Probably forgot about the rubbish bag)
To that, add the saddle cover, two trekking straps and 2m long rope, and hexagonal key set in the little meshpockets.
I don't know which is worse: that I didn't realise realise I was carrying this lot, that having found out I put most of it back into the bike, or that I found it interesting enough to write a blog entry about it.
Now if you'll excuse me, I'll try and figure how to put the side loaders back on the Xtracycle.
Shopping trip as a family activity. Youngest son in the Bakfiets because he was feeling under the weather.
Last Autumn my 11-year-old gel saddle finally split under the strain of carrying my backside for several thousand kilometres and after much consideration (putting it off) I replaced it with a Brooks Flyer, which I was assured by those in the know, was the best -indeed the only- saddle for a regular cyclist like me.
This winter was less than comfortable. Come to think of it, that may be partly why I used the Bakfiets so much.
To be fair, the Brooks has to be broken in, and it had a tough act to follow: I struck lucky eleven years ago with the Gel saddle: it's like sitting on a sofa, but never caused the sort of ailments that are the regular stuff of message boards and letters to bike magazines. I don't have much natural padding either, so getting on a saddle of tensioned leather was a bit of a shock for my rather bony anatomy. I'm glad I didn't get an unsprung version like the B17.
It's always darkest just before the dawn: after much muttering and almost religiously applying proof-hide over winter it seemed to get worse, but since the weather warmed above freezing I'm finally beginning to see a difference. I wouldn't describe the saddle as comfortable just yet, but it's certainly less uncomfortable, if that makes sense. Cycling is becoming enjoyable again and I'm beginning to think about venturing a bit further afield to try the Brooks out over a longer distance.
I'll take my old Gel Saddle and a set of hexagonal keys though, just in case.
After a great holiday near Freiburg, one of Germany's cycling cities, we're back in Ostfildern/Carville and getting back into routine. Yesterday was a Bakfiets day.
First we went recycling. It is impossible to ride a Bakfiets quietly when you're carrying a large plastic box full of glass.
Then we went food shopping, because it's not fun eating green furry bread. When I got out I caught the Bakfiets chatting up this lovely German lady.
Last winter, the winter cyclists  all knew each other by sight, or at least knew each other's bikes by sight, but this year I've noticed more bikes around than before. Many are aged but solid and designed to go out every day with minimal maintenance. The bikes I mean.
While I was there someone came and asked questions about the Bakfiets, because they are looking for an alternative to a car. So I gave them a test drive. Maybe there is hope for a cycling revolution, even in Ostfildern.
Unfortunately now I'm home it means I'm back to work (of the normal kind) but I'll post when I can.
I'm very much aware that I've not posted in a while.
This was partly because I was trying to catch up with everything work-wise that needed doing before Christmas, which I still haven't achieved, but I have now given up. It was also partly because I realised I was getting stressed trying to keep blogging, I felt I didn't have anything positive worth saying for a couple of weeks, and I don't want this to become my platform for ranting about things.
So here's something positive, although it's a couple of weeks old: the last few days of autumn were beautiful this year, and I was fortunately running errands for most of these days so I got to be outside and enjoy them.
Sunshine, no traffic and a ride on the Xtracycle: it doesn't get much better…
I'll be working on Beautiful wife's bike over the holidays, so I doubt I'll be able to post anything before new year, and then work  will hit hard in January so I'll be amazed if I manage more than one post a week. In the meantime, many thanks for a great 2009 together, for reading and commenting, and have a safe and Happy Christmas and new year…