You are currently browsing the category archive for the 'Family' category.
I'm going to the school in Daschow to learn how to be a Rettungsanitäter, or Emergency Medical Technician. I had to think about this a bit as it means committing spend a month away from the family, but I got a lot of encouragement, not least from several readers of this blog, but the deciding factor was that Beautiful Wife felt it was a good idea. As she's the one who will have to look after three highly energetic boys while I'm away, I wasn't about to go and try without her agreement. She reckons that as long as she's known me, I've wanted to jump on passing ambulances to go and help people, so it's about time I actually learned to do it*. I have a fantastic wife.
I'll be off for a month in the state of Mecklenburg-Vorpommern, known as Meck-Pom, and about as far as you can get in Germany before falling of the north coast and heading for Sweden. The school is in the least populated area of Germany's least populated state, and the bus service won't exactly be every ten minutes, so one of the items on the very long list of things to do before I go is fixing up Bike N+1 so I can actually get about**. Thankfully, between working in the bike shop and my habit of embarrassing Beautiful Wife by salvaging bits of scrap bikes, this won't be too expensive. A small victory for hoarding.
Hopefully, if I have time and money, I'll be able to race down to see the family for a very short weekend in the middle of the course, then after my first exam I'll be home for two months, sort of, while I spend four weeks in an accident and emergency ward, and then another month in different ambulances. Of course I now have to apply for these placements, which means more paperwork, and I still have to finish the paperwork for the carpentry apprenticeship, -or more accurately, for the finance for the apprenticeship- and visit the carpentry school and discuss how many lessons I'm expected to attend, and file an amendment to my original application (with paperwork to back it up) because I'm now working part time at the bike shop, and then another amendment (with different paperwork) because I'll be away throughout May, and…
We've made a lot of progress in the last week, I'm trying not to forget that in the face of all these forms…
*Helping people that is, I doubt jumping on passing ambulances is part of the training.
** "Think up a better name for it" is another job, I reckon…
On Monday I got a call from the ambulance training school. They didn't get enough students in Stuttgart, so the school is cancelled. The company offered me a choice:
1: A place at the residential school in Daschow, north of Berlin, at exactly the same time as the one I applied to attend in Stuttgart.
2: A place in the school in Stuttgart, but starting in August.
Because I applied on the understanding that I'd be in Stuttgart, they have offered to cover the cost of the bed and board in Daschow during the one-month theory phase. Whilst the idea of a few weeks in a swanky hotel surrounded by great cycling country is tempting,* this would still mean getting there, and being away from Beautiful Wife and Awesome Boys at least a week at a time and possibly two, although I realise that's quite normal for many families, so I can't complain. For the practical phase I'd ask the school to find me placements near Stuttgart, so I can come back for those months at least, then I'd have to go back to Daschow for the exam week.
The other option would mean doing the theory phase in August, missing my best friends wedding, and then trying to fit the practical phases in when I have a holiday from my carpentry apprenticeship. As the practical section must be eight weeks long, and we get about four weeks holiday a year, (and that's company holidays when everything shuts down: there's no flexibility) it would take two years with no break to finish the course, then another week to do the exam, with long gaps for me to forget everything in between. I could go for a part time course, but then I'd have juggle seminar dates and holidays as well…
So I guess the question is if we think it's worth it for me to go to Daschow, or should I risk trying a part-time course…
I'll be calling the school today to see how the details work out…
*Not that this has any bearing on the decision of course, just mentioning it.
Last month I got a contract from the carpenter in the village to start training in September.
I'd have liked to attempt a witty yet profound post about this but to be honest I'm still in shock that they agreed, especially after watching me make the ugliest box in Christendom.
Assuming I manage to get the grants we need to pay for our living expenses, I'll be at school from the beginning of September: the school is only about 20km away, but that's 20 hilly kilometres. This goes up to thirty if I follow the cycleways which wander in random directions across the map and apparently spurn almost any direct route unless it crosses at least seven tightly spaced contours. What with that and the lack of safe cycle parking I'll probably end up travelling by bus and train, but I'm sure I'll get a few good stories out of that.
I've got a year of the carpentry school. With German and Maths exams at the end. And this isn't German as taught in an English school where you can graduate by saying "Where is the newspaper stand?" and "I am fifteen years old" *. My school grade in 'woodwork' was even worse than German, but I still think I'd have done rather better if the teacher hadn't spent most of his time with the prettier female students, and the workshop had included luxuries like saws that were sharp, or wood.
This of course is the 'other' reason I'm doing this: I'm a bit tired of the long shadow of a school which mostly taught me I can't do anything. It's time to prove them wrong, and incidentally do all the things I wanted to do then but was told I couldn't: In three years I'll be a carpenter, with a German qualification, and the ghosts of that school can be firmly laid to rest.**
And when I think about it, I don't think I'd have done it without this blog, and the generally very encouraging comments and emails you've been sending: thanks for coming along on the journey.
Besides, I have a suspicion that nothing the school can throw at me will be half as difficult as the forms I'm trying to fill in for the grants…
*I am not making that up: it was in my final exam. Thankfully one of the few decent teachers I had was my German teacher who is probably the reason I'm here now.
And on to stage two of the plan for World Domination through Training Courses. This time I'm applying for a course as a Rettungsanitäter, or in English an Emergency Medical Technician.
The reasons for this are many and varied and probably very boring to anyone but me. The course is fairly short, so I could fit it in before the carpentry course, but the job carries a fair bit of responsibility and it means I could work in an area that actually helps people rather than being part of a machine. In the (highly unlikely) event of us returning to the UK, the Immigration Service may more readily recognise this than carpentry as 'a way to support your family'. We may need this because although I'm a British Citizen, I'm married to a "non-EU national" and notwithstanding the hysterics of some people it really isn't that easy to bring a non-European spouse into the country*.
It may also be connected to the scary morning when our youngest son couldn't breathe properly. Of course this is slightly ironic in a way as that morning was a major reason we started living car free in the first place, and this training may involve driving. I'm trying to get some practice before they take me out in a big red and white van.
So plan 'A' is that if all goes to plan and the carpentry apprenticeship works out, I'll then apply for this school in summer, and spend May rattling to central Stuttgart and back on the tram (if there's a safe and convenient cycle route I haven't found it yet) and then I'll have a month in an emergency room taking patients off ambulances as they come in. If I haven't passed out, thrown up or done anything else embarrassing, I'll spend a final month going out as the 'third man'** on several different ambulances, and then I'll come back to school for a week of revision and being graded on resuscitating mannequins and fixing fake injuries.
Graduation is in the first week in August. By mid-August I'll be in Newcastle on Tyne watching a friend get married and then in September -hopefully- starting a 3 year carpentry apprenticeship.
Meanwhile I'll be working in the Garden, organising bike tours, trying to ride a century…
Not too much then.
*Told you it would be boring.
** Read: "getting in the way".
As the last post was somewhat incoherent, I thought I owed it to you, dear reader, to give a fuller and hopefully more interesting account of my week at the wood shop…
Day 1: Adrenaline and the call of nature combine for a wake-up call at 0530, which makes for a slightly relaxed morning ready to start at seven. It's cold and dark, as you'd expect at 0700 in January. The Boss makes introductions to the other staff. I'm terrible at names, and my notebook (brought for such events) is in bag downstairs. Fortunately of the four I know the boss and the other apprentice has the same name as my son. so repeat the other two names in my head for half an hour while everyone rushes about. Do some simple jobs that even I can't mess up, and spend most of the day watching the 'proper' carpenters making bespoke furniture and trying to figure what they're doing and how. Feet hurt.
Day 2: Get up at 0530 again so I can have  relaxed start. Unfortunately I then see it's snowing: I'm responsible for clearing snow from my son's Kindergarten, so a relaxed hour getting ready for work becomes a mad dash uphill with shovel and broom and a mad dash home, wolf down calories and run to work. Yard at work is covered in snow: I assume I'll be cleaning this too but no, I'm sent off to the next town with a Real Carpenter, a lot of tools and an unreasonably heavy piece of glass. This is to replace a broken one in the customers kitchen. Real Carpenter wallops this until it's thoroughly shattered and we manage to fit the replacement without dropping it first. Back home for lunch. Someone else swept the yard, hooray. Spend much of the afternoon scraping paint off a cupboard that someone painted sludge green with paint that was the consistency of vomit. After this I'm holding the other end of various bits of wood while a Real Carpenter cuts out a complex kit of parts for a new ceiling, and a door/wall that has to fit into a house at an angle of exactly 31 degrees. Added interest is provided by trying to understand instructions in German through ear defenders.
Day 3: Go to build ceiling and wall. Ceiling boards don't fit, which we discover while trying to hold large slabs of chipboard over our heads. Much faffing with details and much patience from Real Carpenter as his careful instructions result in my doing a Laurel and Hardy act. Eventually ceiling done, door in place, come home ninety minutes late, feet sore, but energy levels noticeably better than previous days.
Day 4: Given a 'project': several wood parts to measure, drill, then glue and screw together in a box. Measuring works out (building model trains has advantages) but use the wrong drill bit causing the wood to spin like a frisbee and the drill to drop bits on the floor. This is not good. Change drill bit but forget to clamp the wood down so the drill repeats the operation. Apparently it's not my fault the drill broke and I'm sent off to spray something while the drill is fixed. Finish box and leave it for the Real Carpenters to have a good laugh at. G o home to rest feet.
Day 5: Last day and joy of joys only a half day. Told to move heater into wood store. Heater is heavy so naturally it needs to go upstairs. Come back down to find boss looking for heater. Bring heater back downstairs. Boss highly amused, not for the last time that morning.
Off to fix doors in an apartment. This becomes a game of 'look for the front door key in the garden'. Boss calls owner who confirms it is under a rock but as there's about a hundred rocks this isn't helpful. Doing this in -12 degrees isn't helpful either. Eventually a neighbour lets us in.
Back later to the boss and the box. The box is with the boss. The boss explains the box*. Apparently not all the interviewees are given this project and I wasn't expected to do this perfectly, thank goodness: I thought I'd blown it when I had to make four attempts to fit the door correctly. I think it will be shown future apprentices 'how not to do it' for several years to come.
Head home for lunch and to cool feet off.
I enjoyed myself and the work, although I'm aware that's mostly because I was working with a very patient and professional team. Now the boss needs to "have a think" and let me know about the placement in a couple of weeks: meanwhile I'm working on another possibility and I'll be on a course next weekend for that. More details to follow.
*I'm easily amused.
So I've managed a week at the carpentery workshop without losing any fingers or blowing up the paint store. On the other hand I seem to have got on well with the extremely patient people who worked there, and possibly supplied them with a fair bit of entertainment into the bargain. (While remodelling a house for someone, my supervisor stared for several seconds at a panel I'd fixed into place, then quietly asked "How many screws did you put in that?" We agreed that if the panel didn't fall on the floor from the sheer weight of screws, the room could always serve as a bomb shelter.)
I also spent a full day trying to put together a simple wooden box (in between helping other people on their work) and I'm not about to put any pictures of it online before you ask, just in case I actually get accepted on the course: I'd never live it down.
Having spent years sitting all day moving on to a more physical job was like going on a bike tour: the third day was the hardest, and by Thursday I was actually able to hold a vaguely normal conversation which was encouraging, even if I was still too tired last night to write a blog post. I even managed to keep my energy levels high enough to concentrate on the job by wolfing down glucose and carbohydrates at every opportunity.
They say they'll have a think over the next week or so. As far as I know I'm the only candidate for a place this year.
Now I'm preparing for another training course for something completely different. I'm doing a taster course for this next weekend, and if all goes to plan I'll be working on that over summer before the carpentry apprenticeship starts in September.
I'll tell you all about it, as soon as I'm awake enough to work it out myself…

Still working on a trial week at the carpenters.
Today we had fun cutting lots of wood to make a complicated kit of parts to fit a doorway into an awkwardly shaped room and by the time you read this we'll have gone to the room and we will have spent a couple of hours trying to fit it all into place. I think It will work but that's only because the design and measuring was done by someone else with me fetching and carrying, reading diagrams upside down and trying to keep out of the way of the scary whizzy cutting things.
Middle Son blew a hole the size of my thumb in the back tyre on his bike by making a few too many skid stops. I've finally got around to replacing the tyre and inner tube so he's able to use his bike again. Now he wants to travel under his own steam all the time, which suits me: it's easier then schlepping him up hills…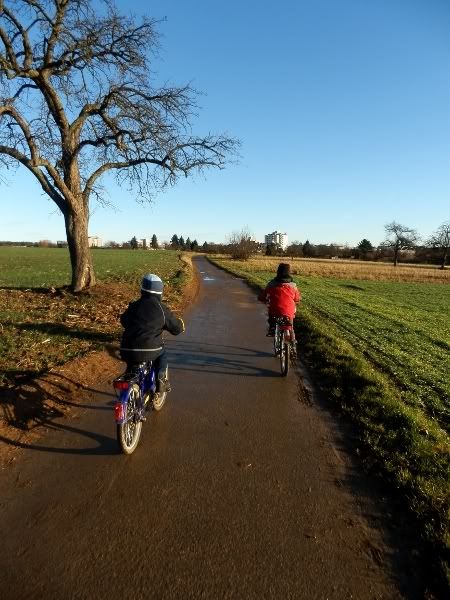 As you will gather from this late posting, the week has been a bit busy. Job hunting in German can be a bit of a challenge: it isn't just a case of looking for a job then applying, it's a case of looking, translating the job descriptions, doing background research, checking what training I'll need, working out where I can get that training, then repackaging this information for family so we can make a decision together, then applying.
Add my inability to master time management and it's a recipe for disaster, so when we had a sunny day last week I dropped everything and took the boys out to explore for the morning. Middle Son has been waiting for a dry day to go on a 'Proper' bike ride since he interited his first multigear bike from his brother for Chistmas, so we went to the the next town to see what the boys call "The UFO". Notice real cycle infrastructure to the left of the boys (Click to enlarge).

We made sixteen kilometres (ten miles) which made Middle Son very happy. On the way home we found that Ostfildern are as usual doing their best for cyclists…
Which meant a minor detour over this interesting piece of cycling infrastructure:
Fortunately when you aren't in a rush and you have three boys, nearly falling in a ditch is just part of the adventure, and Beautiful Wife was delighted to welcome four damp, mud-bespattered boys home just as she'd finished cleaning the house for the week…
*Apparently, going to the shops in the next village doesn't count.