You are currently browsing the category archive for the 'Sustainability' category.
From the Post Carbon institute: a great five minute animation about fossil fuels, environmental problems and peak oil with a positive message…
The carrot harvest from the mayonnaise buckets. Considering that I did just about everything wrong, I'm pretty happy with how things came out. They taste good too. I didn't carry them on the bike because even I'd be pushed to find an excuse to cycle from the back balcony to the kitchen. Especially on the second floor.
I'm wondering about some kind of Permaculture course to avoid making the same mistakes again. Does Anyone else have experience of one of these?
Electric cars have become the next big thing in Germany, partly in response to the problem of Peak Oil. There's a huge amount of money going into a new infrastructure, and much investment in advertising about PR about how these are the eco-friendly, low impact future of personal transport.
Like Hydrogen was a few years ago.
Anyway, I came across this web page from a German power company which makes a few interesting statements, such as:
"Did you know that…

…The total CO2 output of an E-car from energy production to using the energy in driving, is 50% better than a normal car, on average?

… E-cars have already reached a range of 150km (Just under 100 miles) and in the near future will soon reach 350km?
And the the jewel in the crown:
… Even if 25 percent of the German car fleet was E-cars, electricity consumption in Germany would only increase by 4%?
That's a selection fromn this page (In German)
That 4% somehow stuck out. It looks a bit like a "€0.99" price tag, designed to look less than it is, and to reassure us that all is well: it's business as usual and we only need to get an electric car to join the magical expedition to electrically powered Nirvarna, and don't look too closely or you may notice that we're not even taking buses or large goods vehicles into account. And this is only one in four cars, so what will the other three use?
But lets follow the rabbit hole. How much is 4% of German energy usage? Based on this English language report, which uses figures from 2007, German power demand is an average of 122.3 gigawatts. A 4% increase on that is a mere 4.892 gigawatts giving a total demand of just under 127.2 gigawatts if we swap 1 in 4 cars to pure electricity. Great, let's all go and get an electric car.
Except that on page 27 of the same report, something else crops up. What with phasing out nuclear, shutting down aging power stations, the inevitable delay in building new power stations and a possible shortage of skills and parts to make these power stations come on stream, Germany is going to have a shortfall of 45-50 gigawatts in the next ten years. Add the 4.8 gigawatts for those extra electric cars and…
Not so good then.
So why is our Government pouring billions into keeping this unpleasant, antisocial, and downright dangerous transport form going? Because Germany has too many big powerful car companies to let it die.
When I was a small person, (or at least shorter than I am now), summer evenings meant raspberry picking from the giant bush in our garden. At first it was easy: I'd go to the nearest corner of the bush, and pick the nicest fattest raspberries in reach. Of course those were soon gone so I'd move along further from the house, picking as I went. After those were picked I'd start looking under leaves or down by the roots, and eventually either my mum would have to come along or I'd fetch a step and we'd work on the higher parts of the bush. At first this would give us loads of raspberries, and then gradually we'd find less and less, and we'd be standing on tiptoe on a box to get those. The Last Raspberries -the ones on the highest branches- were impossible to get at without a step ladder so we'd leave them for the birds.
The reason I'm delighting you all with this anecdote is that I keep coming across very intelligent people far more learned than I, who are suggesting that the Deepwater Horizon rig was trying to do the oil equivalent of getting The Last Raspberries: just as you don't get a ladder and start at the top of a raspberry bush when there's lots of raspberries at eye-level, you don't drill through 13 000 feet of rock under 5000 vertical feet of ocean when there's lots of oil to be found in your back yard, or friendly governments willing to sell it to you. Their conclusion: we aren't running out of oil: but what's left is very hard to get at.
This is 'Peak Oil Theory'. A quick look at the Wikipedia page reveals this dates back to 1956 when M.King Hubbert noticed that oil fields reach a peak when about half the oil is removed, and start to decline pretty quickly. He also noticed that oil producing regions follow the same pattern. After the peak, it gets harder and harder to get the last half of the oil out: you need more and more energy for less return.
Hubbert suggested that worldwide oil discovery would peak then decrease every year, and this would be followed by a peak in production, and that we'd have to look further up the raspberry bush, I mean further out under the earth to keep digging out more oil. Hubbert then accurately predicted American peak production would be in the early 1970s,. He also said global peak production would be about forty years later (Work it out: 1970 plus forty makes…)
More and more people have been suggesting that Hubbert's sums add up better than the oil industries, and as many of these people can talk about things like "pro-capita oil drilling and consumption on a macro scale using inverted twanging theory in Russia during 1977" and understand it, I'm guessing they know what they are talking about. Fortunately some of them are also able to speak in normal sentences. See here, here (TED video, 20min). Academic types can look at a very long video here.
The oil industry of course, says Peak Oil won't happen for gosh, ages yet: it's all  lies from unwashed environmentalists trying to scare us, but the International Energy Agency (hardly yurt-dwelling hippy types) "World energy outlook 2009" suggested that demand will become greater than supply by 2020, while those well-known tree-huggers at Lloyds Insurers recently published a report with Chatham house on 'energy security'. Their main point: assuming oil wil last forever we will land us in big trouble, very soon. The US Defence Ministry have been making worried noises as well, although you never know: some of them may have a yurt or two.
So could change be coming, and soon? please add your thoughts, links to anything I may have missed etc. Especially if you think I'm dead wrong.
Strawberries, anyone?
There's an unusual amount of back-slapping at the moment in the hallowed halls of Ostfildern's local government: the newest part of the town has been included in a video about sustainable development to be shown as part of the 'Germany' stand on the Expo exhibition in Beijing. Apparently it's a 'showcase town'. Wow, and I get to live here: well, in the next village, anyway.
Baden-Württemberg (a federal state of Germany) is desperate to look ecologically progressive, which is pretty hard to achieve when you're landed with the main factories for Audi, Mercedes, Porsche, and Smart, so they are trying to show a different picture in Beijing, showing off their new kind of sustainable town, with wonderful high-density development, new insulation and heating with wood pellets using hyper-efficient furnaces. It's so ecologically sound that the designers won a prize, and it's part of a European-wide research project. Yes folks, just by living here you are green, green, green.
Until you try to go somewhere, that is.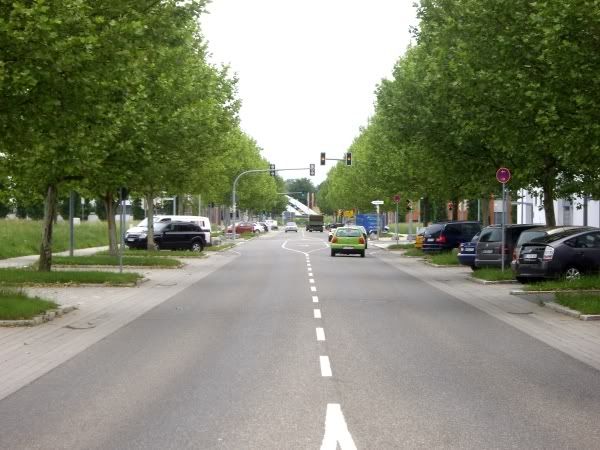 Unfortunately no-one told the transport planners this was supposed to be a green development. Actually, no-one told them it wasn't 1960 any more.
I know what you're going to say: you can't just close a road and expect people to suddenly change how they travel. Except that before 1992 this whole area was a military base used by the US Government, closed off, surrounded by barbed wire and technically part of America. Between 1951 and 1992 these roads didn't exist, and we somehow survived.
Here's the town centre, which has some public transport links at least.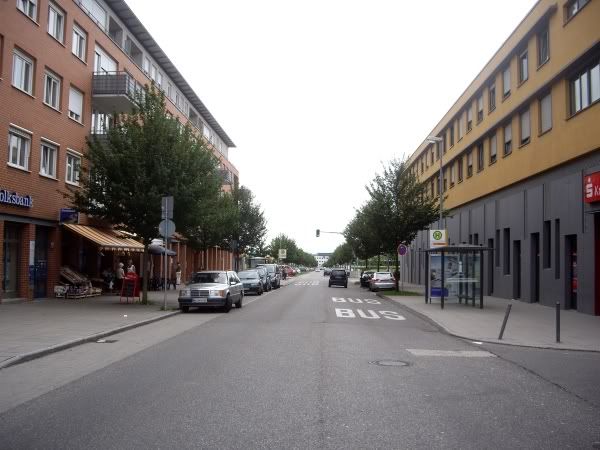 These routes run north-south and east-west through the former base, and together they make a superb new route to drive your Audi, Mercedes, Porsche, and Smart to the Autobahn to the fast road into Stuttgart in the Neckar valley. If you're commuting (by car) to many large employers around Stuttgart, it's a great place to live because  you're linked into this fast, effecient road network. And you get to live in 'sustainable' housing where cars are controlled and you can go cycling on the weekend, because then you don't mind wriggling around the back roads and waiting a while at pedestrian crossings.
It would have been so easy to make the town pedestrian friendly and keep cars at bay, but of course that would slow down the Audi, Mercedes, Porsche, and Smart drivers, and we can't have that. Better to  tinker around the edges with flashy technology and keep the myth of 'business as usual' going, than risk doing something that might upset the motorists.
The veggie buckets on the back balcony are showing some green shoots. Kohl-rabi and lettuces we bought as seedlings are in need of thinning out…
I was determined to grow something from seed this year. The lettuce and carrots are actually beginning to show above ground. Notice high-tech planting methods.
When everyone else at my high school was getting hooked on their gameboys and playing football, I was building things in the woods and trying to make a leak-free roof out of old logs.  Suburbia  still makes little sense: everything from clothes to food to experience seems packaged and shrink-wrapped, made into a conveniently unreal commodity, so people can feel like they're having an experience without any of the inconvenience of having to actually do things for themselves.
Yeah, man. Let us run free in the forest and become one with the trees.
Except that…
I'm not really a live-in-the-woods-and-name-the-kids-after-forest-fauna type, and the more balanced families already living off grid already seem to be really hardcore and capable of anything, or blog in Norwegian.
However, after reading stuff like the Accidental Hermit and the Old Fool Blog, I  figured I could try a night camping with the boys and see how things went, while giving then the chance to sleep under under canvas and contemplate the beauty of the night sky while taking a pee in the woods. Of course when I mentioned it to anyone they pointed out that it was March, for goodness sake, which meant cold, and where were we going to stay, and the tent has holes in it.
Practical people can be so annoying.
We asked around and found someone was willing to loan us a tent to freeze in. and an allotment a few kilometres away that we could put it up in, and another friend agreed we could collect water from their house nearby. We filled the bakfiets with tent, food, and blankets -especially blankets- and get it all up there.
And despite being wimpy townies, We survived. I taught the boys how to lay a fire, make fire lighters from newspaper (Growing up in an ancient house with no heating had its advantages) and how to tie a truckers hitch.
The next morning boys woke up as the sun rose. We had breakfast while learning the difference between a Kite and a Buzzard and the sun dried off the tent, then the boys played in with soil and sticks, and killed monsters in the woods. Then we went exploring for a bit, rolled the tent up, and came back home. No-one got food poisoning, stung, or frostbite. No-one used any soap either, but don't tell Beautiful Wife.
Now I'm trying to work out the next step.
It's been a small person day. Firstly, one of my boys little kindergarten friends had confided in his mum that he really wanted a ride in the Bakfiets, so this lunchtime I made his day by bringing the extra seat and riding him carefully home. Then while waiting for Eldest  son I had a discussion with a small person who had been inspecting the Bakfiets critically:
Small Person: Why do you have that?
Me: Because we don't have a car. I use it like a car.
Small Person: (Eyes widen) Really?
Me: Yes.
Small Person: (testing out the concept) You don't have a car?
Me: No, we don't.
(pause)
Small Person: But what about when you have a holiday?
Me: We go on the train.
Small Person: I mean, when you are on holiday. And you go away. To somewhere else.
Me: (trying not to laugh) Yes?
Small Person: How do you get where you have holiday? You use a car, right?
Me: No, we get our other bikes and we go on the train.
Small Person: Really?
Me: Yes, really.
Small Person: (points at Bakfiets) But not with that though, 'cos that'd be way too heavy.
Me: No, I have another bike for that…
Small person: For the train?
Me: Yes, for the train…
At this point the school bell rang…
I knew I should have written this post earlier: Christoph Chorherr's German language blog recently linked to a survey of the residents residents of Floridsdorf, a car-free section of Vienna which was built about ten years ago, to see how the place was getting along. I was going to read the report a couple of times then impress you all by telling you about it, but I've been busy lazy over the last week and the highly readable "Cycling is good for you" blog got there first with a great translation and summary, and a vast amount of 'further information' links all of which you can read by clicking on this link. Go on. I'll still be here when you're finished.
Welcome back. By now you'll have worked out that Floridsdorf was planned carefully: it's not just about not having parking, but a whole different approach to mobility and livability. It's also good to persuade people not to get a car and park it around the corner on the sly. I especially love the idea of  the shared spaces, so instead of the rich people living on top in a penthouse flat with their own pool, the pool is shared by everyone, as are the community gardens, workshops, and other facilities.
Yet whenever this sort of thing is proposed, it's accused of  'Social Engineering'. or worse. It seems that making public transport available or a building a walkable neighbourhood is 'forcing' people to live a certain way,  instead of allowing people the choice of living how they want, and apparently that's mile after mile of car-dominated sprawl, which where residents choose to be forced to own an expensive car or be  sentenced to virtual imprisonment in in the suburbian gulag. Of course all those people driving require more roads: , so we  "choose" to make cities car friendly, and the people who live in them have streets polluted and clogged by car traffic, because that's What People Want: and forcing them to live otherwise would be 'social engineering' after all. Get off my car yer socialist.
One thing: I don't see one of these around Floridsdorf or Vauban to keep the discontented masses or from leaving. In fact as Anna of "Cycling is good for you" attests, free apartments in Floridsdorf are almost impossible to get hold of because of the high demand. Hmm… Perhaps 'What People Want' is a bit more a case of 'Not wanting to change'.
Either way those pesky socially engineered places are catching on. Vauban caused a little stir a few months ago on the Blogosphere, but very similar schemes exist or are being planned in a few places- Amsterdam has one just around the corner from Henry's workbikes, Düsseldorf and Tübingen are planning similar and there's a brand new one in Köln, just off our route along the Rhine. Perfect for a visit in fact, so we're going to drop by and see what it's really like.
I'll let you know if they have to surround the place with Razor Wire and hunt down escapees trying to breathe the heady exhaust-tinged air of suburbia.
Watch me get scooped on this one.
Long frustrating Monday morning trying to organise our route from Amsterdam and all the stuff included, and incidentally get ready for Japan. Finished with a short bike ride on the Xtracycle with our neighbours little boy on the back, giggling for he was worth.
My one English lesson at the moment is on Monday afternoon. Martin, my 'student ', is a tad older than me. He's a thoughtful man, editor of a national newspaper for the Forestry industry which is at the meeting point of industry and conservation and has a lot of knowledge and understanding of ecology and the ecological movement in a German context. His English  is better than he thinks, and we usually spend 45 minutes talking about ecology and related matters and I get paid for correcting the occasional error. I'm not complaining, especially as he comes up with some pretty deep ideas.
For example,  I've always seen environmental concerns as looking after the land, but as Martin points out, there isn't any truly 'natural' land left in Germany, (or as he puts it: 'There isn't a square metre of the country that hasn't been dug up at some time or other'.) He thinks that when many people talk of conserving the natural landscape, they mean preserving a culture they remember from their childhood. He's not criticising this, in fact he sees it as important because if we lose this part of our culture as our lives become focused on cities, people lose touch with the land, and ultimately with their roots. It reminds me of Japan, where mass rural-urban migration has left dozens of forgotten farms in the jungles, and whole mountains are removed to make way for cities to expand because people don't value the land except in economic terms.
On the other hand, I can't help feeling that as soon as we start trying to preserve a culture we could be killing it, not letting it develop or change. We need to keep the rural areas alive and we're looking at how we can do this as a family of artists. We're looking at how we can live off-grid (Independent of mains and water) and learning about Permaculture farming, which could be a further development of our personal connection with the land.
We're engrossed in the conversation when he suddenly realises he has to go and get his daughter from school. Leaving the house I become aware that my link with nature is calling urgently so I make a minor detour into the fields before riding home.
Once home I help wrestle the boys into bed, but it's still daylight and warm, and youngest son keeps coming out to play. The day ends with me alternately shooing him back to bed and  reading to the accompaniment of our neighbour playing Lloyd-Webber songs on their piano.