You are currently browsing the category archive for the 'Transport' category.
I got an email from a friend this Monday saying they knew of a 'very overgrown' piece of land whose owner was desperate for someone to look after it; by Tuesday I had an appointment to go and look at the land, and by Thursday evening I was in. Considering you usually don't get any information about land unless your great grandfather lived in the village, this is quite a shock.
The land is 13 Are, about 1300 square metres, which isn't quite as massive as it sounds, but it's still pretty big compared to a balcony.
It's about 50% brambles and 100% south-west facing hill. The brambles are so rampant that I can't get within about ten metres of the bottom edge of the property. But it isn't overlooked by too many houses so I shouldn't get into too much trouble with nosy neighbours with my strange permacultural ways.
Pictured is the all important privvy/outhouse. At least I think that's what it was: at the moment it's full of windows and shutters from some long-forgotten building project.
So this is where all my fancy talk about ecology and self sufficiency will hopefully become reality, and blog material.
Thanks to the horrendously complex German electoral system the Green Party have managed, via an coalition with the centre-left Social Democratic Party (SDP), to get themselves into the driving seat in our state of Baden-Württemberg. It's not a great surprise: the natives have been getting thoroughly restless of late, mostly over a project called 'Stuttgart 21′ to rebuild Stuttgart main railway station. The project briefly flashed into international news on September the 30th last year when police sprayed a peaceful demonstration with water cannon. This didn't exactly get the population behind the project.
Stuttgart central station is a Terminus, so trains have to come in and reverse out. German Railways (Deutsche Bahn or DB) thinks this is so very last century. The track to the station also takes up a very large area of Stuttgart city centre, which just happens to be very wealthy, very popular with businesses, and very short on prime building land. DB's idea was to build a groovy new underground through station so trains could arrive under the city, stop briefly to drop off passengers, and whiz off to exciting other European places with none of that annoying reversing business. By pure coincidence this would free up a very large area of prime development land right in the centre of Stuttgart.(I wrote an even more detailed post about this here)
Building a whole new station and several kilometres of tunnel would be a tad expensive, of course, but Deutsche Bahn (German railways) and the ruling Christian Democratic Union (CDU) came up with a nifty equation: the current terminus station has 17 platforms, so when that becomes a through station it will only need eight platforms because trains won't reverse. And that's obviously far cheaper. Sort of. If you say it quickly is sounds almost feasable.
Now the CDU is out, the Greens are in, German Railways (Deutsche Bahn or DB)paused in their attempts to turn the station into a hole in the ground, and everyone is expecting the Greens to stop them permanently. The question is how they'll manage this when their coalition partners are cheer leading for the project, but there are a couple of possibilities. One is a referendum, if they can get enough signatures to make it legal. The other is the sleight of hand DB tried to pull a couple of years ago, which at the time I referred to as a POSAD: A Politically Over Simplified Accountants Dream.
After the water cannon episode last year news got out that where old people and children were injured and things were getting out of hand, so a mediator was called in before people started turning cars over. He told Deutsche Bahn to go and find check their shiny new station really could work with eight platforms at peak times. This looks very unlikely, so they'll be told to go and redesign the station with ten platforms, at which point the whole business case falls to pieces. The report is expected in May.
I can keep you posted if you aren't bored already.
Normal ramblings to continue next week.
I'm in Freiburg again this weekend but I'll reply to comments next week.
One of the ironies of living in a car obsessed world is that you still need a car seat for your kids, just in case you need to travel in a tin tank. As we use them but occasionally we sometimes lend them out to other people, as in this case.
The recepient was all set to drive 1 km over to pick it up, but a Bakfiets delivery was far faster, and gave me a great photo opportunity.
One of the more memorable events in the UK was Youngest Son breaking his leg. He's doing fine but we found we had to take him to the next town but three for the nearest doctor: the Bakfiets turned out to be marginally faster than the tram/bus, even with stops to see rabbits and cows, etc.
Somehow Youngest Son even manages to draw pictures in a moving Bakfiets.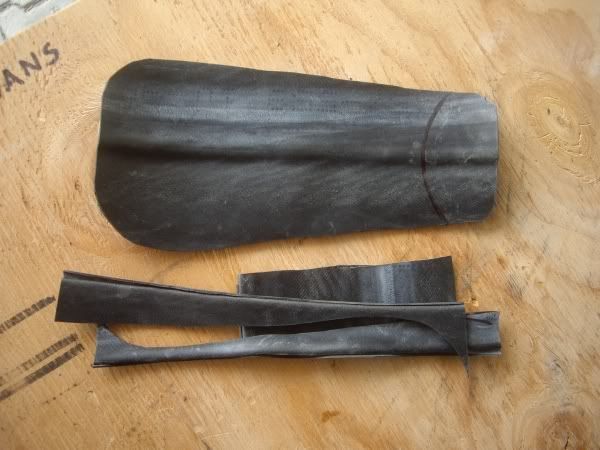 I've spent a lot of time trying to work out how not to get wet feet when I use the Xtracycle in the rain: I guess that's one result of not having a television.
I could just go out and get a nice Brooks mud flap, but I figured that if other people can do stuff like make mushing belts from inner tubes I can at least try a mud flap,  so a couple of weeks ago I spent a half hour in the garage and came up with this low- cost version using a mountain-bike sized inner tube, some tyre repair glue, and a couple of odds and ends.
To make it a bit tougher and stop it curling, I used two pieces of inner tube back to back with puncture repair glue: since getting puncture-proof tyres I hardly use this for it's intended purpose anyway. I'm not sure how well that'll work long term, but I can always try again with a different glue if it falls to bits. I drew the outline with a pen on the glued-together tubes and cut it out.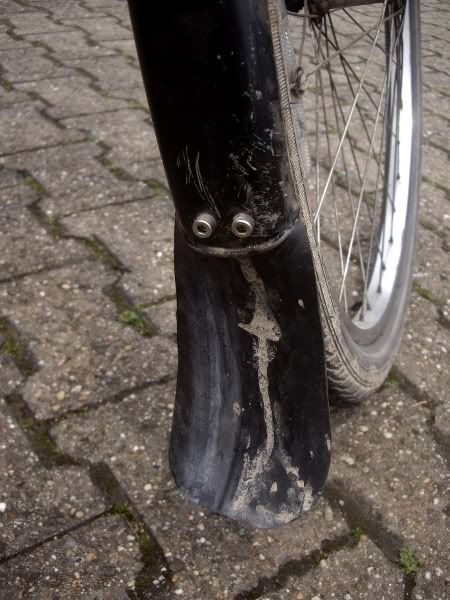 So far it's holding up to the rough treatment I give it. In service it is about 6 cm/2 inches above the road which is low enough to keep me from getting spattered. I didn't get it quite level and there's a gap at the top so some water runs down the back. Maybe I'll do something about that one day.
Last week I got the chance to test drive a new city bike for a customer, It's not quite a dutch bike but it rides well and it's a sensible design -with the oddity that the rear wheel has a back-pedal and V-brake.
A proper full chainguard would be nice.
(It's a Victoria Malta,if you're wondering)
Three schoolchildren coming the quick way home from the school in the next town: they will barely touch a road, much less a busy one because of careful use of the Feldwege, surfaced lanes mostly used by farmers working in the fields but closed to cars. For the sake of a few signposts they've been turned into a comprehensive network for cyclists. It's clear that the main purpose is leisure cycling: some are indirect, and apart from the signs, very little has been done in the way of improvement or surfacing, but  some, like this one, are straighter than the road between the towns.
But notice as well: these kids are cycling alone. No parents are hovering about in the background for the five kilometres or so they are riding. This is quite normal: children walk or cycle or take public transport to school alone. I used to take this for granted, until I saw this excellent blog in the US, where this particular freedom, it seems isn't allowed.
Let us for now ignore the fact that a few hundred metres further on a new delivery entrance has been built across this route. and now cyclists are expected to yield to trucks.
When everyone else at my high school was getting hooked on their gameboys and playing football, I was building things in the woods and trying to make a leak-free roof out of old logs.  Suburbia  still makes little sense: everything from clothes to food to experience seems packaged and shrink-wrapped, made into a conveniently unreal commodity, so people can feel like they're having an experience without any of the inconvenience of having to actually do things for themselves.
Yeah, man. Let us run free in the forest and become one with the trees.
Except that…
I'm not really a live-in-the-woods-and-name-the-kids-after-forest-fauna type, and the more balanced families already living off grid already seem to be really hardcore and capable of anything, or blog in Norwegian.
However, after reading stuff like the Accidental Hermit and the Old Fool Blog, I  figured I could try a night camping with the boys and see how things went, while giving then the chance to sleep under under canvas and contemplate the beauty of the night sky while taking a pee in the woods. Of course when I mentioned it to anyone they pointed out that it was March, for goodness sake, which meant cold, and where were we going to stay, and the tent has holes in it.
Practical people can be so annoying.
We asked around and found someone was willing to loan us a tent to freeze in. and an allotment a few kilometres away that we could put it up in, and another friend agreed we could collect water from their house nearby. We filled the bakfiets with tent, food, and blankets -especially blankets- and get it all up there.
And despite being wimpy townies, We survived. I taught the boys how to lay a fire, make fire lighters from newspaper (Growing up in an ancient house with no heating had its advantages) and how to tie a truckers hitch.
The next morning boys woke up as the sun rose. We had breakfast while learning the difference between a Kite and a Buzzard and the sun dried off the tent, then the boys played in with soil and sticks, and killed monsters in the woods. Then we went exploring for a bit, rolled the tent up, and came back home. No-one got food poisoning, stung, or frostbite. No-one used any soap either, but don't tell Beautiful Wife.
Now I'm trying to work out the next step.
Spring arrived last week, and it seems to be staying this time: The grass is green, the birds are singing and the bike lanes are finally usable again. Last week was our beautiful God-daughter's 4th birthday and we were invited to a small party with her family to celebrate. So naturally we cycled. Eldest son cycled himself, as usual: This is a great way for him to learn independence, and besides, it was uphill and he's getting heavy. Beautiful wife has now got the hang of the ("her") Bakfiets, but  I carried youngest son on the Xtracycle.
It was the first family ride this year that we didn't have to wear gloves. I'd forgotten what my handlebar grips feel like. It was nice to see the scenery again instead of having to scrutinising the surface just in front of the bikes for ice or blackened lumps of snow waiting to throw us off our bikes.
Our hosts let us park in their underground garage, (which is wonderful for security and keeping the bikes dry, but a bit of a pull back out ) and we went to see our god-daughter enjoying being a princess for the day.
On the way home Beautiful Wife has suggested she'd like to wear a long-ish skirt on the bike but she's a bit concerned about it blowing up as she rides. As I'm not in the habit of wearing skirts on or off bikes any suggestions from more experienced skirt/dress wearing cyclists would be welcome.
She's also keen to get her own bike working, (so am I: she's frozen onto the Bakfiets) so I've been spraying primer on the frame of the old clunker we were given. Unfortunately this revealed cracks in the weld so next week I'll be talking to a metalworker friend of mine about how serious they are, and if they can be fixed. I'm not too worried if it turns out to be a problem, as it's been a good practice piece and I'm reasonably happy with how it turned out.