You are currently browsing the category archive for the 'Trenchant comments about cars' category.
A long-term friend in the UK is getting married next year, which means I have to find out a way to get to Newcastle via my parents house in York. Normally we go to the UK via the channel tunnel, but this time there's a small complication because he's getting married in August, when there will be some kind of sports event in London, so the city will be full to bursting point and beyond.
Fortunately my destination is Newcastle, far up in the frozen north where trolls live, so there are alternatives. Most likely is a train journey to Rotterdam, a peaceful nights sleep (optimism springs eternal) as we cross the North Sea by ferry and next morning, catch the train to my parents hom in York. Simple.
Except that the railway stations of both cities are some distance from the ferry terminals.
Okay, so take a bike: cycle from Rotterdam Centraal to the ferry, and from the ferry to Hull station, and while I'm at it, from York station to my parents house.
Look Rotterdam up on Google Earth. Can't find a bike lane anywhere. Mutter dark mutterings about the claims of these blogs then realise the 'road' I'm looking at is a cycle lane. With a white line down the centre. Follow same from station to ferry port. Hooray for Dutch cycling infrastructure, and apologies to the above named bloggers.
Check Hull.
Oh, dear.
There's only a few kilometres between port and railway station, but it looks as navigable as a set from 'The Matrix' and slightly more dangerous. The roads are a mess of dual carriageways, flyovers and roundabouts with enough space in the centre for a small farm, built when city planners knew cars were going to be the only way to travel*. There's the occasional cycle lane for a couple of hundred metres, usually ending at road islands and dual carriageways.
Obviously the chief trolls don't use bicycles very much.
I could give up and use a taxi through Hull, but that would mean I don't have transport for the week or two that I'll be in the UK, which would seem a bit silly for the sake of six kilometres, and nor would I be able to ride in Rotterdam.
The other alternative would seem to be finding a native guide, or at least a map.
So, if there are any cyclists in Hull who are versed in the secret ways of the Matrix, I'd be glad of any tips, decent maps, or better still, a local cyclist willing to guide me through hostile territory between ferry and railway station and back again a couple of weeks later.
Please get in touch through the comments or contact box. Many thanks.
*This was ensured by making lots of dual carriageways, flyovers and roundabouts so it was impossible to travel without a car.
To the German car drivers club:
May I record my gratitude to you for the lurid ill-fitting plastic jacket you sent Middle Son through our local school last month. I'm not sure how large you think children are when they start school, or what you think they'll be called upon to do: the reflective 'Traffic detective' written on the back is somewhat cryptic to say the least.
He will not, however be wearing the jacket unless we have an urgent need to be spotted by a helicopter rescue team. Middle Son's backpack has a much more subtle design, yet still manages to have enough reflective material to be visible from space and frankly if your members can't see it, then they really shouldn't be storming about the village in their big cars. Mind you, as they seem to be incapable of seeing the big reflective sign with the black '30km/h' on our street, or the or the 2 metre (6 foot) long '7km/h' painted on the roads nearby, I'd suggest a large minority could do with getting their eyes tested anyway.
Your claim that you "want children to be safe" is a great way to make parents feel guilty unless they force their children into these coats, but it hardly adds up as we know that the best way to keep children safe is to keep cars well away from them or have stringent speed limits, and yet the mighty Google shows that your organisation is often quoted as opposing such measures.
This is hardly a surprise: you are after all a car owners club, not a child protection society, and as such your main concern is to promote the 'rights' of your members. They in turn seem to feel that anything on the road that is not a motor vehicle is trespassing on their territory.
Call me mister cynical if you will but the jackets you hand out look like another attempt to reinforce the message that pedestrians are only really allowed on roads -or pavements- under protest, and that anyone venturing out into the Sacred Space For Cars* must be dressed like a radioactive teletubby, and stay out of the way of the Very Important Drivers. If children are injured by a Very Important Driver it's their own fault; in fact, they should really stay indoors, well of the way, or go to school in their parents car.
So the jacket will stay in the cupboard, but thanks anyway.
*Which apparently includes pavements/sidewalks.
Many thanks to Utility Cycling for the video.
Bearing in mind that the difference between the cost of petrol to society and the much lower price at the pump amounts to a government subsidy, how exactly will increasing speed limits on motorways from the current 70mph to 80 mph, and causing a 20% increase in fuel consumption, help to reduce the budget deficit in the UK?
Answer that one Mr. Hammond.
And then answer this one.
"How lovely to be home" I thought as I rode along a narrow one way street with the traffic.
"Brrrmmm, Brrrrm" Said the car behind.
"Funny, why are they doing that?" I thought. "They can't be trying to overtake because there isn't any space, and anyway, I'm riding as fast as the vehicle ten metres in front"
"Brrrmmm Brrrrrmmmmm" Said the car behind.
"I guess there's something wrong with the clutch, or something" I decided.
"Brrmmmm Brrmmmmmmmm, Beeeeeep" said the car behind. It was almost alongside me now, somehow squeezing into a gap between the parked cars. The driver was waving at me, which was nice.
I waved back.*
The driver noticed they were about to drive into a parked car and stopped suddenly.
At the end of the one way system we entered a wider road and the white van pulled off. Car behind pulled past. The driver waved quite a lot this time.
I waved back again.
The driver seemed to be happy to stay with me and drove  v e r y s l o w l y  in front of me for several metres before pulling off and stopping at a house.
I would have stopped to further our aquaintance but I had an appointment to get to.
* Because they couldn't have possibly been trying to push me to the side of the road to get past as this is a highly illegal and dangerous manoeuvre, which would only have enabled them to get a few metres further.
Beautiful wfe asked me to drive her across town to see a friend last night. I hadn't driven a car in months until we came to Japan, but I figured that we'd be okay: the roads are pretty empty when it isn't a rush hour, we have low speed limits locally and the car is a small compact. Even better, it's an automatic: what could possibly go wrong?
Well, for example, I could get in and discover that I left the lights on last time I used it so the battery is dead as a doornail and the car won't start.
It turns out petrol prices aren't the only thing you forget to check when you use a bike all the time.
If it was a manual I'd have tried push starting the thing, but how do you get a dead automatic car to start?*
*I appreciate that this marks me as a helpless twerp in car culture, but there we go.
I discovered today that even in Japan, no matter how narrow a road is, how obviously it is not designed for through traffic, there's always some drivers possessed by an urge to use it as a short cut and go barrelling along at inappropriate speeds.
I also discovered that no matter how much traffic is coming the other way and how unsafe it would be to overtake, some drivers will honk their horn to demand cyclists somehow become one with the concrete wall alongside the road and let their vehicle pass.
Isn't it good to know that whatever our cultural differences, there are some things which unite us?
The plan was that by yesterday morning I'd have shaken off the jet-lag and thus I could get up reasonably early before the heat began to slow-bake every living thing, and go for a walk before returning refreshed to speak bad Japanese to my extended family. Of course it didn't work out like that because my metabolism still thinks it's in Europe and we're in the crash zone between a couple of tropical storms and an area of high pressure which meant that every cloud passing over dumped its water on us, and then moved out of the way so the next one could join in, but about mid-morning I got bored of waiting so I went out anyway.
It took a while to get my 'Japan legs' back: apart from anything else, cars drive on the left, most of the time, and I lived on the mainland of Europe for ten years and learned to drive there as well, so I tend to get confused by this, but also because in Japan street signs are considered advisory, pavements/sidewalks are a part of the road with only a white line to show where pedestrians are supposed to walk, and zebra crossings are a nice decoration for pedestrians to look at while waiting for a gap in the traffic.
On the other hand roads are narrow and traffic is fairly slow so it's not particularly dangerous as long as you remember to look right, or left… and jump out of the way when you get it wrong, and there's none of the nasty aggression you get from European drivers, so despite getting mixed up several times no-one hooted at or gesticulated wildly.
Bicycles are required to ride on the pavement/sidewalk, which takes a bit of getting used to having been brought up to think that riding on the pavement is an abomination causing desecration and a mark of the coming apocalypse. Speaking of bicycles, the bike I intended to use here has gone, probably to be with its owner in Tokyo, so I'm now trying to figure out how to get hold of another one.
In other news, the suitcase finally arrived, broken beyond repair and missing a strap that was holding it together but at least containing a change of clothes.
One of the things about being a non-car user in a car culture is that I'm beyond the scope of any conversation that involves cars. which is most of them. Sooner or later in any group someone will turn to someone else and say:
"What sort of gas mileage do you get on your Toyota Childsquasher?"
And they'll be off talking about cars for at least the next hour, possibly a week, with subgroups breaking off to discuss power-to-weight ratios, cup holders, GPS Systems, and how that nasty government are making petrol prices so high. It's impossible to join in these conversations without becoming the resident snotty treehugger.
Fortunately for me our bicycles start conversations. Not on their own, you understand, but indirectly, through people being interested in them. This happens a lot on trains, usually with someone giving the Xtracycle a hard stare around the back wheel, and then they start asking questions: 'Is it a tandem?'; "It must be hard to ride"; and "does it have a motor?"
It's quite a relief when this happens: as long as the questions are about the bikes it's easier to to avoid Snotty Treehugger Syndrome, but it doesn't always work, like the time on a train when a fellow passenger skipped the preliminaries and started with: "Why do you have that long bike?"
I gave my usual answer: "Transporting children, shopping, touring, taking recycling stuff to the tip."
"Why?"
"We use it instead of a car." (See what I mean? I was trying to avoid this, honestly)
Short pause. "So you don't have a car?"
"No"
"Oh, I couldn't do that, I need my car. I mean, how do you go shopping?"
"Well… we use this…"
"But what about when you want to go longer distances? You can't go driving down the Autobahn on that."
Unfortunately I couldn't think up anything better than:
"When I need to go on a long journey I sit and relax on a train."
This rather stopped the conversation.
A friend has asked for ideas on 'how to start cycling' for someone who owns a car but wants to cycle more for transport, especially commuting. Now, I'm not terribly well qualified for this as I never owned a car and only got my driving licence when I was twenty six because we were in a rural area and I mistakenly believed I 'needed a car'. Here are my paltry suggestions, I hope more experienced people can add others:
Don't panic: the streets look scary, but they looked pretty scary on your first driving lesson too, and you made it.
Get a decent bike: Yes, I know supermarkets are selling 'bargain' bicycles, but how much are you really going to use a bike to get around if you have to pedal to get downhill with a following wind? Especially if it doesn't have lights/mudguards/luggage rack. And your 'expensive' bike will still work in ten years time: your car won't.
Get at least one good lock.
Freeze your car keys: put them in a margarine tub full of water and put it in the freezer: that way you can get at them if you need to, but it's a lot less convenient than having them by the door.*
Put your bike keys by the door.
If you feel the need for a helmet, get one, if the idea (or cost) of a polystyrene lid puts you off, don't.
Explore: bikes can go places cars only dream of. Find regular routes you are happy with. In six months your mental map of the town will look different to a motorists, so you'll send drivers down dead end streets.
Always hide after giving drivers directions.
Learn how to ride safely. learn about blind spots, door zones et c.
Please, stop at red traffic signals.
Wave at other cyclists.
Learn which sort of car to watch. Locally it is Taxis, old men in big cars (especially Mercedes) and young women. Other places are different. I don't know why.
And of course:
Enjoy yourself, smile and wave at drivers, even when they are swearing at you. It's nicer than shouting back and it makes them madder than anything else you could do.
*maybe not if they're one of those new-fangled electronic keys…
…that after two years of using the Bakfiets, in which time we've used it for moving everything from glass for recycling and shopping to snow clearing equipment and very large pieces of wood, people still give us odd, slightly condescending looks when we announce we're going to use the thing for carrying anything bigger than a paintbrush?
Like when we went to help a friend who'd just got married move within the village: her old apartment was only a couple of kilometres from her new one on a flattish road* and there wasn't that much to shift, but still people were looking at me with "Aw, cute toy bike" expression.
Well, we discovered three things:
Firstly…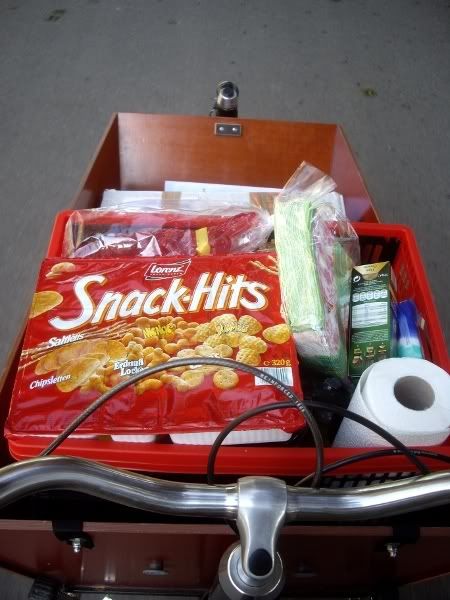 …you can transport…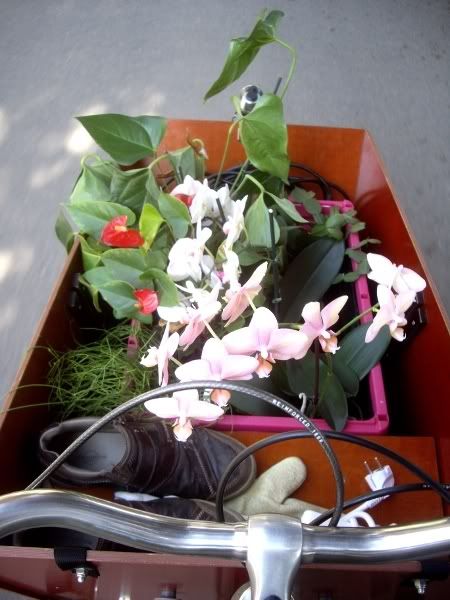 …more than you'd think…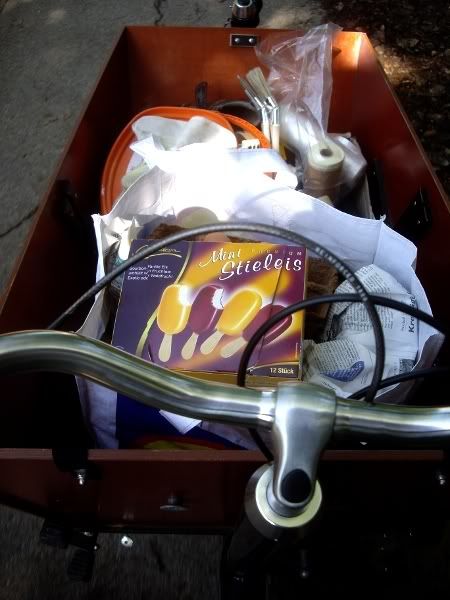 …quicker than you'd think…
…using human power…
…including the bride…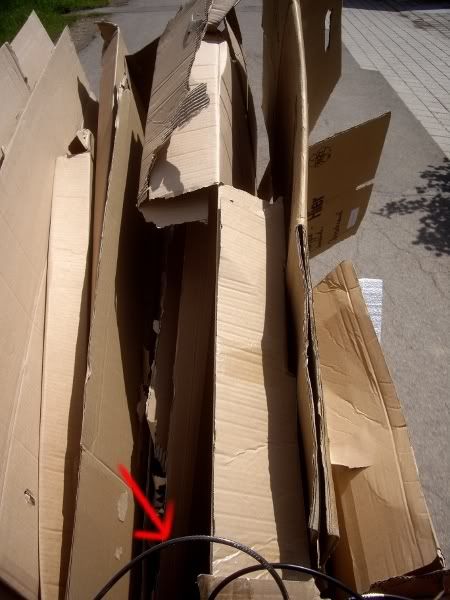 …and still have time and energy to tidy up afterwards…
(Note arrow pointing at brake cable to prove this is in the Bakfiets and not just a pile of cardboard on the road)
Secondly, that even here it's possible to find a short cut by bike, so two kilometres driving could be reduced to 500 metres, meaning I could often wave the van off, cycle to the other apartment, and be comfortably ahead of them to the point of loading the bakfiets when they finally arrived…
Thirdly, when people realise this, no matter how many times you explain that cycle lanes have barriers and the van won't be able to get through, at least one driver will still try and follow you…
*Well, flattish for around here anyway.