You are currently browsing the category archive for the 'Uninformed opinions' category.
There's an unusual amount of back-slapping at the moment in the hallowed halls of Ostfildern's local government: the newest part of the town has been included in a video about sustainable development to be shown as part of the 'Germany' stand on the Expo exhibition in Beijing. Apparently it's a 'showcase town'. Wow, and I get to live here: well, in the next village, anyway.
Baden-Württemberg (a federal state of Germany) is desperate to look ecologically progressive, which is pretty hard to achieve when you're landed with the main factories for Audi, Mercedes, Porsche, and Smart, so they are trying to show a different picture in Beijing, showing off their new kind of sustainable town, with wonderful high-density development, new insulation and heating with wood pellets using hyper-efficient furnaces. It's so ecologically sound that the designers won a prize, and it's part of a European-wide research project. Yes folks, just by living here you are green, green, green.
Until you try to go somewhere, that is.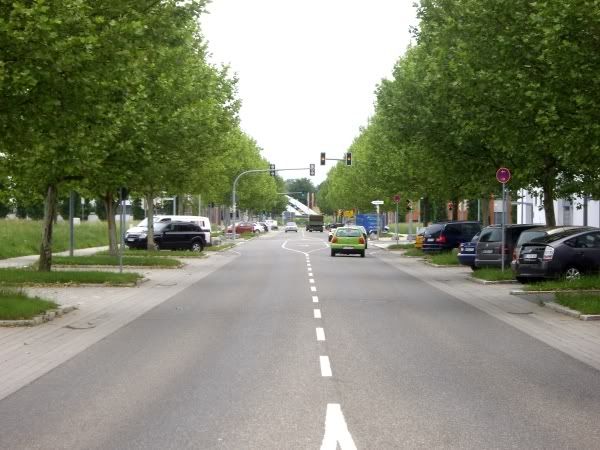 Unfortunately no-one told the transport planners this was supposed to be a green development. Actually, no-one told them it wasn't 1960 any more.
I know what you're going to say: you can't just close a road and expect people to suddenly change how they travel. Except that before 1992 this whole area was a military base used by the US Government, closed off, surrounded by barbed wire and technically part of America. Between 1951 and 1992 these roads didn't exist, and we somehow survived.
Here's the town centre, which has some public transport links at least.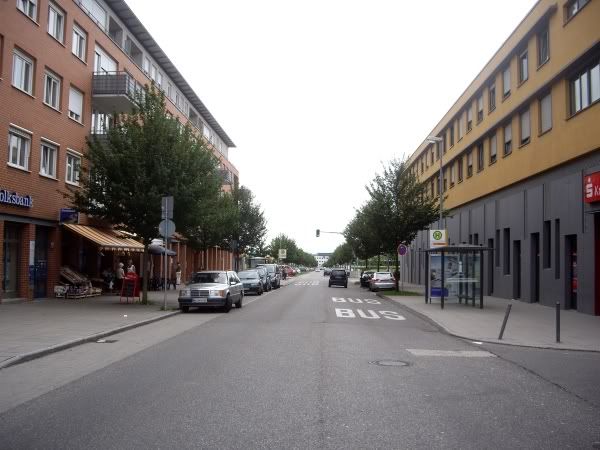 These routes run north-south and east-west through the former base, and together they make a superb new route to drive your Audi, Mercedes, Porsche, and Smart to the Autobahn to the fast road into Stuttgart in the Neckar valley. If you're commuting (by car) to many large employers around Stuttgart, it's a great place to live because  you're linked into this fast, effecient road network. And you get to live in 'sustainable' housing where cars are controlled and you can go cycling on the weekend, because then you don't mind wriggling around the back roads and waiting a while at pedestrian crossings.
It would have been so easy to make the town pedestrian friendly and keep cars at bay, but of course that would slow down the Audi, Mercedes, Porsche, and Smart drivers, and we can't have that. Better to  tinker around the edges with flashy technology and keep the myth of 'business as usual' going, than risk doing something that might upset the motorists.
Every now and again someone brings a bike into the shop which needs to be scrapped. Usually that's not why the customer brings it: they are hoping that for a few euro we'll make it ready for a ten-day tour. By this evening. Or tomorrow at the latest. Often the bike could be restored, but it would cost more than the cheapo full suspension bike on sale at the local supermarket that week. The Boss and I spend much time whining about this.
The frames on these bikes are usually in good condition, and some of the parts could certainly be useful for something. I rarely know what, of course, but I swipe whatever I can anyway on the basis they are too darn cool to throw away, This nice retro light is a case in point: I have some vague idea about changing the current mudguards on the Xtracycle for a set of metal ones (scrounged off another scrap bike) whereupon I'll fit this to make a very cool retro looking front headlight. That's if I can get the scrounged hub dynamo to work. If I can work out how to fit LED's into the casing, I may even manage it before winter.
I don't have an immediate need for old pedals, but I'll use them somewhere. Eventually.
This blog has been temporarily taken over by the ministry of propaganda to make an important announcement:
You are entirely powerless to change anything.
You are not individually created, deeply imaginative beings capable of finding solutions for yourselves, so stop trying. After much consultation with people who are more important than you, we have a far better understanding of any given issue. It is therefore pointless for you to research anything yourself: you cannot possibly understand it. Mainstream media can provide all your information. remain scared. Do not get involved in change.
You are not capable of developing your own localised low-cost solutions to environmental problems. If you want to care for the environment then you must buy products designed by the industry because they know a lot more than you. Riding a bike shows that you are different: invest your savings in a hybrid car so that we can keep the motor industry alive. Don't get ideas about building your own beautiful house for less than it costs to buy a new car: buy an industry made eco-house for twice the cost of a normal home and take out a 30 year mortgage to cover it. Going 'off grid' is too difficult. Remember: you are not an expert, you are not creative. Buy more.
'Living simply' means returning to the dark ages. Community is overrated. It is very important that you keep looking for more, bigger, better. Following desires implanted in you by marketers is freedom. Things that are free are of no value. Do not enjoy the sunset outside. Go and buy a plasma TV so you can watch films of sunsets, and get an even bigger one next year. It is important to keep up with your neighbours. Where you live is boring: go to exotic places for your holidays: this is the way to fulfilment. Do not develop meaningful relationships with friends over home-cooked food: go to expensive restaurants to be seen so that your social status is increased. And drive there. You can't help the environment anyway, so stop trying. Loneliness is normal. Normal is good.
Big Business will look after you -as long as you do as you are told. Stay scared and buy things you don't need. Accept the decisions of those in authority without question because they know much more than you. Do not think independently: you may decide to be different. Being different is difficult. People who live differently become labelled as strange and you don't want to be strange. You want to be normal.
Thank you for your attention. Now go and buy things.
While on a packed plane apparently hovering over Siberia, we're all handed a set of form from Japanese customs and Immigration. As well as asking for our address in Japan and in Germany  it lists a series of increasingly paranoid questions including"How much money are you currently carrying?" "Have you ever been found guilty of any criminal offence?" and "are you currently carrying …drugs… or explosives?" As a conclusion it adds that criminal proceedings will result if we don't declare "Everything you are currently carrying"
Sigh. That's Japan: 'Foreigners' have historically been viewed with deep suspicion. Between 1600 and 1867 the nation was closed to outsiders and 'Non-Japanese' were forbidden from the mainland on pain of death, but now the government has to be content with asking invasive questions, fingerprinting and photographing foreigners coming in, a practice I'd thought went out of fashion with the Berlin Wall.
But then, my own country has a pretty poor record in the same area (this account on the PPE blog is not entirely exaggerated, from my experience) so I suppose I've no reason to get too grumpy about it when I'm on the receiving end.
What a negative post. More positive stuff about this fascinating country, and cycling here, will follow,  I promise.
In our youngest sons' medical record there's a medical report from the children's hospital in Esslingen to our children's doctor, dated the 30th of January 2007. The introduction  begins:
"Report of the above named patient who was brought to our emergency department at 07:54 this morning. Found this morning …breathing loudly and drowsy. Emergency doctor called, on arrival patient unresponsive…"
I can't read those rather undramatic words without remembering the fear I felt holding my tiny six-month-old baby and trying to get him to wake up, move, respond, anything. I remember the rasping wheezing sound of his breath as I tried to call the advice line to see what I could do, and being met with a barrage of questions about my insurance details, address, and other things that I really didn't what to deal with right then, before explaining the symptoms and hearing the words "Call an ambulance". Well, gee thanks. I could have done that three precious minutes ago.
The dispatcher told me the emergency doctor was on his way, and to wait outside the house for them to come so they could find us quickly, so I stood outside for a private eternity, trying to stay calm so my family wouldn't get even more scared, while a truck decided to deliver in the shop next door and caused a traffic jam in both directions. The doctor's red and white mercedes came, blue lights reflecting off the houses, and they piled out carrying oxygen bottles, monitoring devices and other unfamiliar but strangely comforting tools of the trade, asking questions even before they were through the door.
Our little boy still wouldn't respond to light, noise or gentle shaking so an ambulance was called. We carried him there, lit by flashing blue lights, with neighbours watching through the windows, although I admit I felt a slight stab of justice when I saw the Ambulance was parked in the loading bay, blocking the truck in.
After continual talking and massaging in the ambulance, I was rewarded by a squeeze of his fingers as we rattled through the morning rush-hour traffic, and the ambulance drivers were fairly confident that he'd be okay, but he didn't really seem to wake up until he was being examined in the hospital. The form shows a great long list of things they checked before coming to the eventual conclusion it was Croup, probably aggravated by the Feinstaub (Particle pollution) from diesel engines: at the time we were living in an apartment next to a street with 1500 trucks and 13000 cars passing daily.
That morning 'caring for the environment' became personal. For me it's not just about 'looking after the earth' but a memory of waiting for the doctor and not knowing if my little boy would die. I don't want other parents to have to stand on the street, praying the ambulance will come quickly, that their child will wake up or just keep breathing.
We'd followed the cultural belief that 'one day' we would have to get a car but on January 30th 2007, that changed. Our family learned first hand the cost of society's addiction to driving everywhere, and decided we won't live that way. The process that resulted in us getting the Xtracycle, going to Amsterdam and bringing a bakfiets to Stuttgart and much else, was kicked into high gear that morning.
We're a car free family in a car obsessed culture: this is our story.
[When the next post comes up, this will move to the 'about' page]
Bristol (UK) has just become the first city in the country to start a bike share scheme, and it's getting all manner of flak for it. The main argument against seems to be that "Bristol is hilly" which is hardly an astute observation if you've ever been there, but apparently a shock to journalists from London.
Germany has several bike share schemes: I know this will annoy the French, but several cities in Germany had quietly embraced the idea years before it caught on in Paris. Stuttgart, which is possibly even more hilly than Bristol, has a successful bike share system run by German Railways (Deutsche Bahn, or DB). The 'Call-a-bike' network was launched in 2007 with 400 bikes at somewhere between 50-65 hubs around the city depending on who you ask. It works using mobile phones which has the advantage that they know who is using any bike at any time, Despite this Stuttgart is fussy about you bringing the bike back to the hub you got it from, but on the other hand the first half hour is free. The system has been an instant success and it's been was expanded since it opened. (I guess that's where the different numbers come from, so much for Teutonic accuracy).
Stuttgarts traffic is probably a bit safer for cycling than Bristols, but we also have tramlines on a number of streets, and other streets that are so steep they give up and become staircases. So can Stuttgarters handle hills better than Bristolians? I doubt it, especially after a few beers. The major difference in the two systems is the numbers of bikes. Stuttgart has 400 bikes in 60 Hubs. Now Wikipedia says the centre of Stuttgart (where the bikes are) is home to 590 497 people  (or at least, it was on the first of June 2008). My maths is a bit fuzzy but I think that works out as a bit less that one bike per 1500 people living the centre. And you thought talking about bike parts was as boring as I can get.
'Hourbike', Bristol's foray into the brave new world of bike share, involved much fanfare and eighteen bikes in four stations. Yes you did read that correctly. Eighteen. According to Wikipedia and my fuzzy maths, if the population of central Bristol all decided to join, over 23000 people would be lining up for each bike. That's bad enough, but the four locations don't include  the main railway station. Now call me obtuse, but if I was going to make a bike share system, I'd make darn sure it feeds the main public transport hubs. Last time I was in Stuttgart I found four hubs of about twenty bikes around the main station in the city, or to put it another way, more bikes than serve the whole city of Bristol, and there's still 61 hubs elsewhere.
Bristol has a chance to prove everyone wrong and become a flagship city like Paris -and for the record, I hope they do- if it starts taking it seriously and stops faffing about. To get the same ratio as Stuttgart only requires 300 bikes, give or take, and perhaps a lot of publicity, and you have a prestige project begging for a politician to sponsor it. Any takers?
I knew I should have written this post earlier: Christoph Chorherr's German language blog recently linked to a survey of the residents residents of Floridsdorf, a car-free section of Vienna which was built about ten years ago, to see how the place was getting along. I was going to read the report a couple of times then impress you all by telling you about it, but I've been busy lazy over the last week and the highly readable "Cycling is good for you" blog got there first with a great translation and summary, and a vast amount of 'further information' links all of which you can read by clicking on this link. Go on. I'll still be here when you're finished.
Welcome back. By now you'll have worked out that Floridsdorf was planned carefully: it's not just about not having parking, but a whole different approach to mobility and livability. It's also good to persuade people not to get a car and park it around the corner on the sly. I especially love the idea of  the shared spaces, so instead of the rich people living on top in a penthouse flat with their own pool, the pool is shared by everyone, as are the community gardens, workshops, and other facilities.
Yet whenever this sort of thing is proposed, it's accused of  'Social Engineering'. or worse. It seems that making public transport available or a building a walkable neighbourhood is 'forcing' people to live a certain way,  instead of allowing people the choice of living how they want, and apparently that's mile after mile of car-dominated sprawl, which where residents choose to be forced to own an expensive car or be  sentenced to virtual imprisonment in in the suburbian gulag. Of course all those people driving require more roads: , so we  "choose" to make cities car friendly, and the people who live in them have streets polluted and clogged by car traffic, because that's What People Want: and forcing them to live otherwise would be 'social engineering' after all. Get off my car yer socialist.
One thing: I don't see one of these around Floridsdorf or Vauban to keep the discontented masses or from leaving. In fact as Anna of "Cycling is good for you" attests, free apartments in Floridsdorf are almost impossible to get hold of because of the high demand. Hmm… Perhaps 'What People Want' is a bit more a case of 'Not wanting to change'.
Either way those pesky socially engineered places are catching on. Vauban caused a little stir a few months ago on the Blogosphere, but very similar schemes exist or are being planned in a few places- Amsterdam has one just around the corner from Henry's workbikes, Düsseldorf and Tübingen are planning similar and there's a brand new one in Köln, just off our route along the Rhine. Perfect for a visit in fact, so we're going to drop by and see what it's really like.
I'll let you know if they have to surround the place with Razor Wire and hunt down escapees trying to breathe the heady exhaust-tinged air of suburbia.
Watch me get scooped on this one.
Long frustrating Monday morning trying to organise our route from Amsterdam and all the stuff included, and incidentally get ready for Japan. Finished with a short bike ride on the Xtracycle with our neighbours little boy on the back, giggling for he was worth.
My one English lesson at the moment is on Monday afternoon. Martin, my 'student ', is a tad older than me. He's a thoughtful man, editor of a national newspaper for the Forestry industry which is at the meeting point of industry and conservation and has a lot of knowledge and understanding of ecology and the ecological movement in a German context. His English  is better than he thinks, and we usually spend 45 minutes talking about ecology and related matters and I get paid for correcting the occasional error. I'm not complaining, especially as he comes up with some pretty deep ideas.
For example,  I've always seen environmental concerns as looking after the land, but as Martin points out, there isn't any truly 'natural' land left in Germany, (or as he puts it: 'There isn't a square metre of the country that hasn't been dug up at some time or other'.) He thinks that when many people talk of conserving the natural landscape, they mean preserving a culture they remember from their childhood. He's not criticising this, in fact he sees it as important because if we lose this part of our culture as our lives become focused on cities, people lose touch with the land, and ultimately with their roots. It reminds me of Japan, where mass rural-urban migration has left dozens of forgotten farms in the jungles, and whole mountains are removed to make way for cities to expand because people don't value the land except in economic terms.
On the other hand, I can't help feeling that as soon as we start trying to preserve a culture we could be killing it, not letting it develop or change. We need to keep the rural areas alive and we're looking at how we can do this as a family of artists. We're looking at how we can live off-grid (Independent of mains and water) and learning about Permaculture farming, which could be a further development of our personal connection with the land.
We're engrossed in the conversation when he suddenly realises he has to go and get his daughter from school. Leaving the house I become aware that my link with nature is calling urgently so I make a minor detour into the fields before riding home.
Once home I help wrestle the boys into bed, but it's still daylight and warm, and youngest son keeps coming out to play. The day ends with me alternately shooing him back to bed and  reading to the accompaniment of our neighbour playing Lloyd-Webber songs on their piano.
Hills are on my mind at the moment, specifically the one where this sign is planted between Neuenbürg and Waldrennach in the northern end of the Black Forest.
Cycling has a pretty meagre travel share in this region. It isn't helped by variable quality of cycle paths, but a major obstacle is Geography, (To be more accurate, Geology, but if I'd said that you'd have switched off straight away) The Black Forest is a series of hills with deep gorges slicing through them. For various reasons of interest to geographers and virtually no-one else, this makes most villages are either long and thin in the valleys or small and round on the hilltops, with big with big gaps (and hills) between.
If you just look at this sign you'd think a cycle commute from Waldrennach to the larger town of Neuenbürg was a doddle at 3,8km, a nice easy distance for cyclists, on a road closed to vehicles. What it doesn't tell you is this is 20m above Neuenbürg, and cyclists to Waldrennach have another 200m to climb. If you want to be the next Lance Armstrong (And much respect if you do) this is your ideal training route, but most of us aren't really up for this.
To add insult to injury, the valleys can create winds: Geographers call these anabatic and katabatic winds and insist that anabatic winds are created when warm light air rises along the valley floor and up the sides, and on a really good day, make thunderstorms as well, while katabatic winds are cooler, heavier air blowing down at night. Cyclists call them all sorts of things and insist they are created by the presence of a cyclist by a malicious fate, so we're riding into a permanent headwind. A similar meterological process causes coastal winds in the Netherlands, and as David Hembrow says, they are a major problem as well.
This shows the trouble with a 'one size fits all' approach to cycling: Faced with a 200m climb to visit grandma, very few people will use bikes even if there is perfect infrastructure all the way. (that said, a safe route along the valleys would be nice) The villages are so compact everyone walks except for xtracycle nutters like me who should know better. Bike lanes on narrow steep mountain roads probably aren't practical, so how do you provide an alternative to cars here, especially as this is one place where some people will need cars for work? I reckon a combination is required: trains and buses that carry bikes (lots of bikes) at no extra charge, preferably with good connections from the valley to the hills, so the train along valley comes into station as bus comes into the forecourt, so passengers can change without waiting, rather than seeing their connection pull away as they arrive.
This is the same problem as we face. Ostfildern (Suggested motto: "Four wheels good, two wheels bad") is about 170m above Stuttgart or Esslingen and there is almost no way around it. Stuttgart now allows limited bike transport on the Metro but you can only carry bikes on a bus off peak, which rules out commuting. Even if Ostfildern wakes up to reality and makes a decent cycle network, we'd still need to help people get up the hills before we have any chance of a cycling culture.
So what ways are there? I've already mentioned the rack railway in Stuttgart, but there must be other ways. Does anyone else know of low cost ways to get lots of bikes up monster gradients?
On another Father and Son bike ride last week we passed through the 'new' part of Ostfildern where there has been a bit more thought than usual given to making it for people and not for cars. It's still not brilliant, but even with this token effort there are far more bikes. While some probably only go out every second weekend in summer, many are clearly used for daily transport, like this one, which had clearly just come back from a ride with the kids, maybe to the shops which are only a kilometre away.
This is the only part of the Ostfildern where there are segregated cycleways within the town, but to reach the shops in this planned and allegedly 'sustainable settlement' you need to cross a busy road, and lock your bike to a railing or a hopelessly inadequate and often uncovered Sheffield stand.
Yet even this minimal cycling infrastructure, a few routes that are safe for children to ride on without adults supervising them, and a handful of places where cars have to drive slowly, and people ride for transport. The evidence is here, right in front of us, so when will Ostfildern start getting serious about cycling and see what some real infrastructure achieves?