You are currently browsing the category archive for the 'Vaguely decent photographs' category.

After one 'interesting' road journey (ever tried crossing a suspension bridge in a typhoon?), a remarkably punctual flight to from Nagoya to Helsinki, an almost comically delayed flight from Helsinki to Stuttgart, we are back where we started five weeks ago, although there will probably be a couple more posts about Japan when I get the time.
Yesterday I went for a ride went food shopping on the Bakfiets. I'd forgotten how much work is needed to move a 30 kilo bike uphill. This, and the fact that we spent more time in a car in the last five weeks than in the previous year, probably explains why my waistline expanded over summer. Looks like I'll need to go out cycling more. It's a tough life.
In other news, the tomato plants on the balcony are giving a crop of tomatoes, including the one I raised from seed and was told would die before it gave any fruit. The tomatoes have mysteriously been joined by several other plants, some of which I can identify, and three carrots which I forgot about survived the summer and are pretending to be a bush.
I'll report on the garden when I have the courage to go and see what's happened there.
I muttered last week about the project to make the Xtracycle's hub dynamo actually produce some light for the extra weight it provided. Unfortunately this would involve working with electric circuits, which are populated by gremlins, which hate me.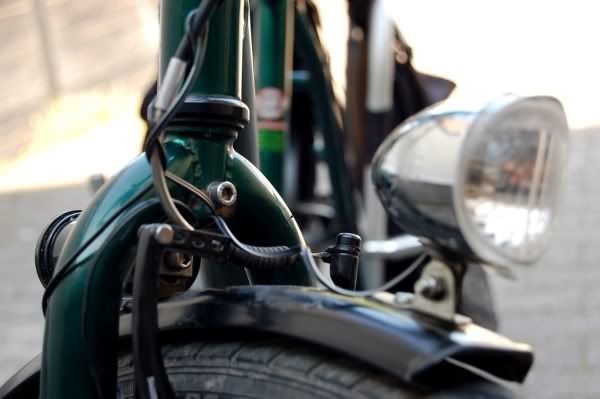 When the front light worked first time it was, therefore, rather a surprise.
After soldering the switch on and making a complete rat's nest of wires in the deluxe switch housing unit, I spun the wheel, and the headlight worked again. Much euphoria. I wired the rear LED light to the system directly to test it.
The back light worked too.
I wound the wire through the Xtracycle frame and connected the rear light again.
Nothing.
The back light was dead, and now the front was sulking too.
This was electronics as I remembered it. I poked at wires, checked what was connected to what, and put them back again exactly as they were before.
Suddenly both lights worked: I had a working dynamo light system and I hadn't blown anything up. Medals all around, celebratory lap of the village, waited for sunset so I could test the lights out. Lights visible from space, started to think about about fitting capacitor so front light has continual beam at stop signs.
I'll keep the battery lights to hand in case the Gremlins decide to get stroppy later.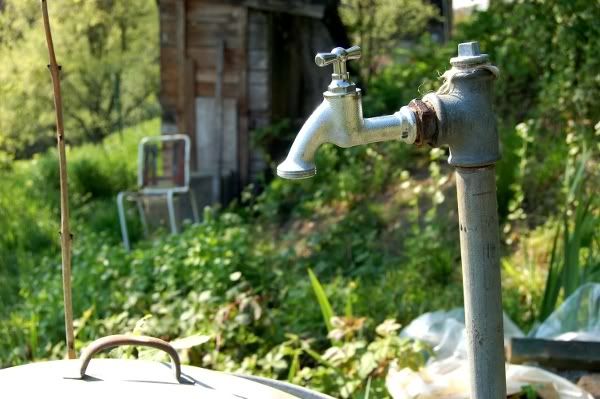 Water supply in the garden, with the all-important privvy in the distance.
The dustbin lid-like object under the tap is apparently a steriliser for use with an open fire. I'll experiment with that later. I need to get the privvy working first. To do that I need to make a compost bin, for which I need wood, which I'll salvage when I clear out the shed. After I've emptied the Shed of Asbestos…
Some people manage to do all this and keep livestock. I can't even find my tools.
Xtracycle basking in the sunset. One of the advantages of using a bike to get around, instead of a metal box, is that I notice things like this and can stop to watch them.
Not that I was enjoying myself really: it's all hard slog motivated by concern about global warming, honest…
I got an email from a friend this Monday saying they knew of a 'very overgrown' piece of land whose owner was desperate for someone to look after it; by Tuesday I had an appointment to go and look at the land, and by Thursday evening I was in. Considering you usually don't get any information about land unless your great grandfather lived in the village, this is quite a shock.
The land is 13 Are, about 1300 square metres, which isn't quite as massive as it sounds, but it's still pretty big compared to a balcony.
It's about 50% brambles and 100% south-west facing hill. The brambles are so rampant that I can't get within about ten metres of the bottom edge of the property. But it isn't overlooked by too many houses so I shouldn't get into too much trouble with nosy neighbours with my strange permacultural ways.
Pictured is the all important privvy/outhouse. At least I think that's what it was: at the moment it's full of windows and shutters from some long-forgotten building project.
So this is where all my fancy talk about ecology and self sufficiency will hopefully become reality, and blog material.
Spring sunrise on the way home with shafts of light bursting through trees, buds breaking, and birds singing.
And all the cyclist could think was: "Another §$%&/ hill…"
My Xtracycle is built onto a Raleigh bike, and not just any old Raleigh either. If you click on the picture you will see the  words 'Nottingham, England' in gold on a black background.
For some reason I'm irrationally proud of this, even though the gears are Japanese and made in Indonesia, the tyres are German and the Xtracycle frame was made in Taiwan.
The bike is an 'M-Trax 80′ and was built in the last years before production in Nottingham ceased and frame building moved overseas. I bought it in 1997 from Shepherd's cycles in Wellington, Somerset, UK, and the shop badge is on the main bar with their address and telephone number. It cost three hundred pounds*.
My previous bike had been a second hand not-quite-supermarket-special which had come with its own tribe of gremlins and gave me trouble pretty well all the time. I'm still convinced parts would work loose just sitting in the garage. The back brake was somewhere down near the bottom bracket, convenient for catching mud but useless for adjusting, and was made of plastic. The wheels, I seem to recall, were steel. If bikes were airline seats, changing from the old bike to the M-Trax was like upgrading from Ryanair to Singapore Business Premium.
For about a week after I got the M-Trax I was the worst customer imaginable and kept going into the shop because of some imagined rattle or something not quite as I wanted it to be. I was nineteen and three hundred pounds was the most I'd ever paid for any single object, but the fact remains that Mr. Shepherd was most patient when dealing with this arrogant teenager.
For all my complaining, some of those parts are still on the bike now. I replaced the saddle within a week on the basis I needed to walk straight at work, but the brake levers and shifters are the ones upgraded (free) by Mr. Shepherd all those years ago, and several other components are still doing well despite hitting the road frequently in the first month when I wasn't used to commuter cages on my pedals and failed to put my feet down fast enough at traffic lights**. The frame is even still under guarantee until next year. In fact, considering it has since been used under a very heavy and often well loaded Xtracycle, in all weathers and with sometimes indifferent maintenance, the three hundred pound bike Mr. Shepherd advised me to buy is still doing very well fourteen years later.
Made in England, you see. Except the bits that aren't.
*The bike, not the badge.
** I'm not saying this happened a lot, but I believe the newsagent in town was running a book.