You are currently browsing the category archive for the 'Xtracycle' category.
On the way to Tübingen, Andi waiting for yours truly to stop messing about with the camera and decide which route to follow. (bigger picture)
There were a lot of decisions to make this month, but finally things are coming together. Watch this space.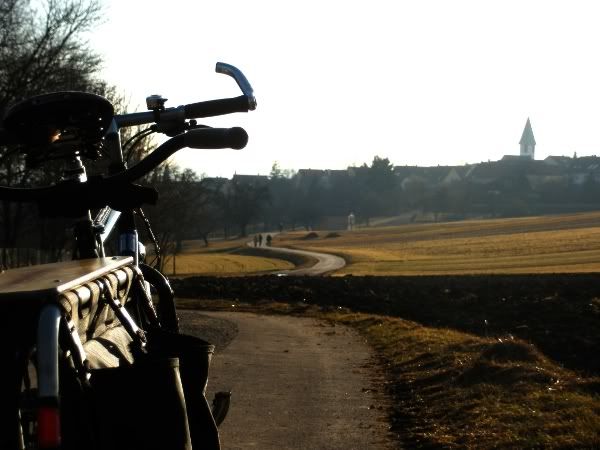 Thanks to Really Useful Bikes I was able to replace the broken clip the Xtracycle sustained when it decided to roll down a set of stairs in December*, just in time for the snow and ice to melt so I can get  bit further afield.
First long(ish) tour of the new year scheduled for Saturday.
*The shop in Germany I contacted -twice- for a replacement still hasn't got back to me.
The Xtracycle had an accident this week and broke one of the clips on the luggage panniers. It wasn't the Xtracycle's fault: I had to go to something the boys were involved with, locked it to a railing and the wind blew it down some steps while I was inside.
I duly emailed the shop who sold us the Xtracycle, and they promised to send me a paypal invoice sharpish and a replacement part as soon as the money hit their account.
That was several days ago and I've heard nothing since. I'm still waiting for a part I ordered under guarantee two years ago, so I'm not holding my breath.
As Xtracycles are made in sunny California I imagine parts are a bit easier to come by in the US. Are there any US based readers who could order me a spare clip, and send it on to me here if I pay the postage? It's a pain to do things this way but I really need the Xtracycle to be back in operation. Any offers of help would be gratefully received.
Update: Thanks to Nigel's comment, I was able to get some replacement clips from Rob at Really Useful Bikes, and have a great chat with a kindred spirit about Xtraycles and Bakfietsen and things cycling into the bargain.
From our balcony I can see a range of hills (when it's not raining, and of course today it is, but work with me) which form the European Watershed, which I find pretty exciting, but I did study Geography for several years. Rain falling this side of them will flow north to the Rhine and out to Amsterdam, and anything falling beyond will make an epic journey through Austria, Hungary and Romania and off to the Black Sea.
If todays weather is anything to go by, neither region will be short of water over the next weeks.
I could cycle over the European Watershed from here, I just haven't got around to it yet. This is partly because I was otherwise engaged doing things like attending permaculture courses, visiting Japan and transporting poo, but also because I'm a lazyoaf and the idea of climbing up the side of said hills is a bit daunting. But next year I'm determined to cross that watershed.
I've done some serious plotting with things called 'maps'*. It seems I can follow a route I've done before to the Neckar valley, which has a well signposted long distance route. From there it looks fairly easy to the city of Reutlingen, which looks a bit daunting, but after that there is a traffic free cycleway on an old railway line from Reutlingen through Lichtenstein (Not the tax haven, but it does have a nice castle) and then up the side of a cliff hill to a smallish village called Engstingen, which is on a river leading to the Donau.
According to the mighty Google it's about 65km. One way. And then I have to get back again, so 130km in total, which is a bit over my current record of 114km when we brought the Bakfiets from the Netherlands to Germany, and on that occasion it was in the sort of country where a bridge counts as a hill, whereas this route goes down into at least three valleys and back up out of them again, a caps the lot with a 200 metre (600 feet and then some) climb at the end. In theory, the return should be a bit easier because it's down hill most of the way. Right…
Still, now I've told you lot about it, I'll have to do it. I guess that's not a bad new years resolution, especially as another resolution is to ride a full century (160km) next year** so It'll be good preparation for that. I'll put it on the list along with 'sort out the garden'; 'refurbish bike N+1′; and 'write a blog entry each week'…
*A sort of papery thing that people used before GPS.
**Actually I said the same last year, but we'll ignore that.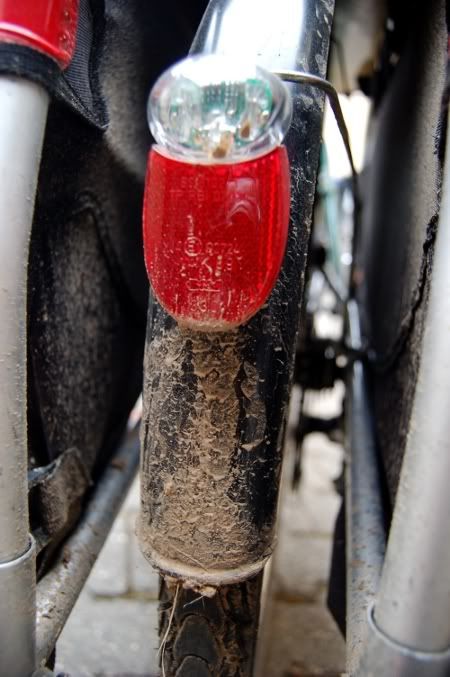 'Tis the season to be mucky. Especially as it's rained most of the last fortnight, and despite promises to the contrary the cycle lanes are still not cleaned. Not that I ever believed they would be, based on Ostfildern's record.
Our poor bikes are looking reproachful at the moment but as I keep telling them, they are working bikes, not toys, so this is bound to happen sometimes and it's better to be covered in mud than dust. I've promised them a good clean for new year. Hopefully.
If it isn't raining for the entire holiday.
Still, we're over the winter equinox, so things can only get better…
The other day was the sort where you can only find one glove. I'd been working late the night before so I was tired and therefore grumpy, and when I found the other glove (in the jam cupboard, don't ask me) it was torn on one finger. By this time we were late and we barely got the boys to school in time via several Mercedes infested 'traffic calmed' streets. Despite the late working I was still behind schedule, and I had a theatre workshop to prepare for that evening; the job hunting wasn't going well (although there's been a bit of progress since, which I will hopefully, possibly hear more on soon); and it was raining with a damp grumpy drizzle that chills the air and your bone marrow. And the farmers had had a ploughing festival the day before where one of the main events was apparently "See who can leave the biggest pile of mud** on the cycleways". Grump, grump grump.
Which would have made for a bog-awful morning except that:
Youngest Son gave me a huge smile and hug as picked him up out of bed and held on to me like a limpet for thirty seconds before being distracted by his advent calender.
On the way to work I was passing a tree and spotted a buzzard was sitting on one of the low branches, a bare two metres from me. I'm not sure which one of us was more startled by this, but for thirty seconds we stared at each other before he decided I wasn't going to keel over and provide him with an easy meal, which I'm glad about because frankly, buzzards are pretty big when viewed from two metres, and flapped off to a tree further away.
*The nearest I reckon I'll get to "Dances with Wolves".
**I'm going to optimistically assume it was 'Mud'.
A typical Xtracycle journey: business meeting in the next town, and Beautiful Wife asked me to pick up some shopping on the way back. I took five minutes to restock calories on the way home; the Xtracycle made a good footrest.
Sometimes people get quite concerned about our family and how difficult it must be for us without a car.
"We cope somehow" I tell them.
One of the things about being a non-car user in a car culture is that I'm beyond the scope of any conversation that involves cars. which is most of them. Sooner or later in any group someone will turn to someone else and say:
"What sort of gas mileage do you get on your Toyota Childsquasher?"
And they'll be off talking about cars for at least the next hour, possibly a week, with subgroups breaking off to discuss power-to-weight ratios, cup holders, GPS Systems, and how that nasty government are making petrol prices so high. It's impossible to join in these conversations without becoming the resident snotty treehugger.
Fortunately for me our bicycles start conversations. Not on their own, you understand, but indirectly, through people being interested in them. This happens a lot on trains, usually with someone giving the Xtracycle a hard stare around the back wheel, and then they start asking questions: 'Is it a tandem?'; "It must be hard to ride"; and "does it have a motor?"
It's quite a relief when this happens: as long as the questions are about the bikes it's easier to to avoid Snotty Treehugger Syndrome, but it doesn't always work, like the time on a train when a fellow passenger skipped the preliminaries and started with: "Why do you have that long bike?"
I gave my usual answer: "Transporting children, shopping, touring, taking recycling stuff to the tip."
"Why?"
"We use it instead of a car." (See what I mean? I was trying to avoid this, honestly)
Short pause. "So you don't have a car?"
"No"
"Oh, I couldn't do that, I need my car. I mean, how do you go shopping?"
"Well… we use this…"
"But what about when you want to go longer distances? You can't go driving down the Autobahn on that."
Unfortunately I couldn't think up anything better than:
"When I need to go on a long journey I sit and relax on a train."
This rather stopped the conversation.