You are currently browsing the tag archive for the 'transportation' tag.
Last week the train service to college threw a wobbly because a signal failed. Trains generally manage to arrive within five minutes of when they say they will arrive, but when things go wrong the whole thing seems to fall apart. From experience you just have to wait in hope until a train may or possibly may not come along, so I got back on the bus home, retrieved my bike and cycled to college instead.
It worked okay. The last hill on the way home was pretty tough, and I can't say I felt like doing much in the evening. Probably not a commuting strategy for every day then.
I would probably be less tired if I had a bag that would clip onto the luggage rack instead of my backpack. I could also carry the backpack on the Xtracycle of course, but that would mean leaving the Xtracycle in an open bike rack all day.
Cycling all the way from home to college is considered seriously strange by most people of course, but people at college are used to my subversively hippy tendencies.
This is the same view as last week. Being able to see the road ahead is quite exciting.
The weather does this quick change every year and it still takes me by surprise. I'm not complaining though.
In case you think I'm showing off, it's still freezing in the mornings.
The bakfiets in for repair again. Notice new repair method with bike vertical instead of on its side. This saved twenty minutes of digging the chain out from behind the front cog.
Having repaired the puncture on the rear wheel a couple of weeks back, and -surprisingly- got the wheel back on the Bakfiets again, I discovered the bearings were loose. In theory this meant taking the wheel off again last weekend and carrying same to my local bike shop where they could do some technical jiggerypokery with their astonishingly expensive cone spanners until the bike worked again.
This should have been the end of the matter, but when I rebuilt the wheel this time I forgot to tighten an essential but normally inaccessible bolt, so after another trip to the bike shop to find why bits of the brake assembly were rattling against the wheel, I had to repeat the operation to sort this out.
My incapability with complicated mechanical things is another reason I hopefully won't ever own a car.
The rain has finally managed what the city refuses to contemplate, and cleared the hard packed snow on the route over the fields to the next town. The majority of the route (where cars are allowed to go) was fine but the middle was impassable, or at the very least unpredictable. I know this because I've been going out to check the route whenever I had time and daylight with all the seriousness of some native hunter tracking prey.
By cycling I save about ten minutes each way, and avoid the slow tedium of driving on a bus that winds its way around the town for several kilometres before returning to the same place it was five minutes earlier.
I can't help wondering how drivers would cope with these conditions. If, whenever it snowed, drivers had to go out and check if their route would be clear the next day, would winter driving would be as unpopular as winter cycling locally?
Or maybe there would be a surge in SUV sales because people 'felt safer' driving in the snow in a bigger car, and then we'd have te same situation as now, on a larger scale.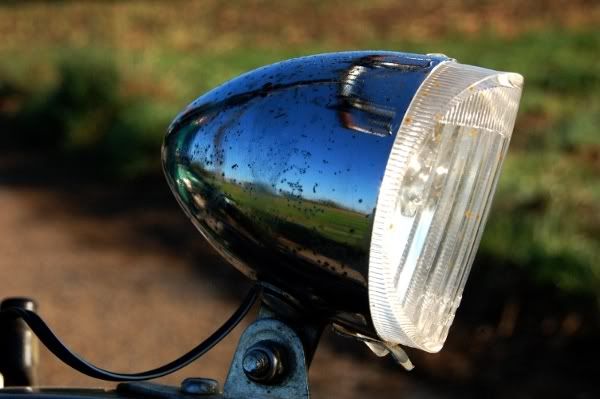 Winter has kicked in with a vengeance, and for the last few weeks I've been leaving home before dawn and arriving after dusk on weekdays. Once out of the village it is pitch dark, and the wonderfully retro bodged halogen light I fitted on the commuter bike hasn't got enough oomph to break through the dark and fog that are a feature of the ride, especially on the section where the local council has thoughtfully closed the pedestrian/cycleway to accommodate building work* and I have to navigate over the fields and around some trees largely by memory. When I'm riding in traffic I'm fine while I keep moving but as soon as I stop I become invisible.
I reckon I've got at least eight more weeks of this, so I've finally got a modern light, which actually lights up the road, and stays on for a few minutes when I'm not riding. It's a bit of a risk having a better quality light on a bike I'll leave in a public space most of the day, but the bike parking space seems pretty safe, and weighed against crashing into a tree or being run over, it makes sense.
If I muster up a lot more self discipline than usual, I may even fit it to the bike and take photos before next March.
*Because it isn't a road, so it's not like anyone important will be using it.
Here's the first project from carpentry training, or at least the first one fit to show on the blog. It took several hours of cutting, planing, filing and sanding to get this together.
In our corner of Germany this is called a 'Vesperbrett', 'Vesper' being a mid-morning break where people usually eat a sandwich, traditionally using wooden plates like this one. In the UK I expect we'd call this a cheese board.
In a few months we'll be making things far more complex than this and I'll probably look back and wonder what all the fuss was about, but for now I'm feeling pretty satisfied just to have made something that looks vaguely like it should, and hasn't fallen to bits within 24 hours.
I've been a commuter for a month now. Not a proper 'fight against early morning drivers to claim back the road from motor vehicles' commuter, more a sort of 'ride blearily through the fields to the next village and abandon the bike for a bus' commuter. I only have a few hundred metres of road where there's traffic and at half past six in the morning there isn't even that much of it.
I've even managed to find some decent covered cycle racks (ie, not wheel eaters) which are pretty safe. I know this because the old peoples home next door has used them as to stack several new rolls of linoleum for a couple of weeks.
Normally I leave home at leave home at about 0615 which gives me plenty of time to get everything ready, discover something is missing, panic, run about the house trying to search quietly so I don't wake up Beautiful Wife, wake Beautiful Wife, look for the missing item where she has told me to look, find it, pack my bag and leave, and ride over the fields at a reasonable speed catch the bus at 0635. The strange thing is, if I happen to be late (ie. When I've lost something and Beautiful Wife isn't able to guide me to it), no matter how hard I ride, it still takes me five minutes longer to ride the same distance.
Carpentry school is proving challenging, not least trying to keep up with the instructions. We have eight to nine hour days and we're starting to get research assignments and presentations to prepare. I didn't realise that as well as woodwork we're expected to be competent in technical drawing as well, which is why I spent the afternoon drawing lots and lots of parallel lines without a ruler. I think the idea was to show it can't be done.
The plan was to change from posting on Saturday to writing little posts as and when I could, but I'm still getting used to the routine (and probably too lazy) to get writing most evenings when I come home.
I was going to say that the good side to this is that when you do a carpentry apprenticeship, you can be fairly sure you'll get a decent job, but then today's newspapers were saying that our local car company is announcing things aren't looking too good. In theory it's a good thing if we are producing less oil dependent cars: that will mean a tiny bit less pollution, a tiny reduction in our resource destruction to make flashy cars whose drivers object to my presence on the road, but Stuttgert depends on the car industry and it would be nice if we could avoid economic meltdown until I've at least managed to finish my apprenticeship…
Anyway, I'm still here, don't go anywhere…